Body
RSPO certification demonstrates your commitment to source and deliver responsible palm oil.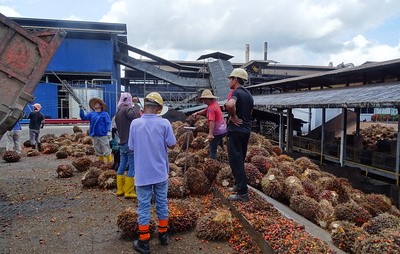 If your organisation produces, trades or uses responsible palm oil, then Roundtable Sustainable Palm Oil (RSPO) supply chain certification (SCC) is for you.
All organisations that are part of your supply chain and use RSPO certified responsible oil products, will need to be audited to prevent overselling and mixing palm oil with conventional (or non-sustainable) oil palm products. These organisations can claim the use of RSPO certified products "on pack" by using the RSPO Trademark.
If the RSPO rules are broken, the RSPO certification can be withdrawn at any time.  
Key steps 
To begin your certification process and receive a service quote, fill in our service request form or contact us. 
The process normally entails the following steps:
| | |
| --- | --- |
| | Scope of your certificate: We help you to identify the scope that that best fits your needs and company set-up. Once you have accepted our offer, we will assign a Preferred by Nature contact person for your organisation.    |
| | Prepare for certification: You can use the resources and tools that we publish on our website to help you prepare for your certification. You develop company-specific chain of custody procedures and instruct all relevant staff. We review and provide feedback on your CoC procedures before the on-site visit. |
| | On-site audit: When you are ready, we conduct an on-site assessment to check your compliance with the RSPO supply chain certification requirements. This is done through direct observations, document reviews and staff interviews. |
| | Draft report: We draft a formal report which is reviewed by a senior Preferred by Nature expert and submitted to you for comments prior to its completion. |
| | Certification: Based on a positive outcome, we issue your RSPO certificate. |
Your RSPO certificate remains valid for five years, providing that you pass annual audits. Once the validity period ends, you need to be reassessed to renew your certificate.
Service scope
We can help you identify the type and scope of certification that best match your needs. Here are some of the key choices available regarding the scope of an RSPO supply chain certificate:
Supply chain model: You need to choose among three distinct supply chain models used for RSPO supply chain certification: Identity Preserved, Segregation or Mass Balance. This is closely linked to your company set-up, including whether you will need to mix certified with non-certified material or not. You may need to select more than one system, depending on the complexity of your production and trade.
Book and Claim: The fourth supply chain model, not for producers, is the Book and Claim model. No certification is required for this model, but users need to show that they are compliant with the rules for the RSPO book and claim system. In addition, the claims they make need to be in accordance with the published RSPO rules on market communications and claims.
Single, multi-site or group certification
If your organisation manages facilities in two or more sites, you may be eligible for multi-site certification that will reduce the total cost of certification. 
Single: This is an entity that administers only one site. The CoC certificate is for one entity. An example might be a single raw material exporter or a cocoa processor with a single processing facility that produces cocoa butter, liquor and powder.
Multi-site: This is a certification option for a group of sites that have a contractual link, a defined Central Office and a minimum of two participating sites. 
Group: Supply chain group certification offers an option for RSPO supply chain certification whereby the direct costs are shared between the eligible members of a group. 
Our credentials
Expertise. We work with companies of all sizes dealing with various agricultural products including coffee, tea, cocoa and tropical fruit. Since 2012, we have delivered Rainforest Alliance Sustainable Agriculture Chain of Custody certification services to over 360 companies in Europe and Russia. We are seasoned FSC and PEFC chain of custody certifiers and experts on legal and sustainable forestry. We also provide Carbon Footprint Management certification to help companies reduce their emissions.

Focus on customer experience.  We keep you up to speed on the certification requirements, and we take pride in providing clear and full answers to your questions.

Industry insight. We cater to companies of all sizes and from all business sectors along the supply chain. Whatever your line of business and company set-up, we possess insight into the specific options and challenges of certification that apply to your organisation.

Local presence, global reach. With staff located in over 40 countries across the globe and backed by an extensive global network of experts, we cater to companies worldwide. 
Additional value of engaging with us
Wider service choice. We offer a wide range of additional services to support your sustainability efforts. For example, you can  work with us on responsible packaging if you are using paper-based packaging. Or we can help you to cut your carbon emissions through carbon footprint management training and certification.

The non-profit factor. We are mission-driven. This is reflected in our focus on quality, information sharing and capacity building.  
Five benefits of choosing RSPO certification
| | |
| --- | --- |
| | Help protect the environment and communities. RSPO was developed to address the global concern that commodities are produced without causing harm to the environment or society. With RSPO certification, you provide an assurance to the customers their choice helps conserve the environment.  |
| | Access new markets and customers. Many leading manufacturers have already committed to the use of responsible palm oil in their products and now only source through traceable supply chains. Demand for responsible palm oil is increasing. |
| | Enhanced visibility and branding opportunities. RSPO certification helps you to demonstrate your commitment to responsible palm oil production that reduce environmental and social impacts. |
| | Improved quality and management systems. Many certified companies find that the certification process brings unexpected benefits such as cost savings.  |
| | Join a larger responsible community. RSPO members make up a large part of the world's palm oil that is produced and sold in the global market. In 2020, RSPO-certified growers accounted for 19% of global palm oil production. |