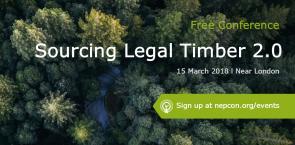 Venue
The Living Planet Centre, Rufford House
Location
Woking, Surrey, UK
Start Date
Thu, 15 Mar 2018
End Date
Thu, 15 Mar 2018
Since the European Timber Regulation (EUTR) was established five years ago, many timber related process have been set in motion. Enforcement agencies are have been improving and advancing their operations while Forest Law Enforcement, Governance and Trade (FLEGT) licensed timber has entered the market. And yet, for many European businesses the EUTR regulations still pose several challenges, which need to be overcome in order for timber regulation to be effective.
NEPCon therefore invited industry, authorities and other stakeholders to join a one-day conference – the final event of our 'supporting legal timber trade' project - with an aim to help them:
avoid common due diligence pitfalls
gain access to insights on key risks and how to deal with them
understand how the enforcement authorities evaluate your performance
understand how conducting quality due diligence makes good business sense
promote their compliance
gain an overview of the vast jungle of free info and tools available and how to use them
plan for future sourcing
understand how technological advances in timber traceability and verification can help improve the efficiency and credibility of your due diligence system
connect and exchange experiences with timber-related companies, trade associations, technical experts and relevant organisations from across Europe
Session 1: EUTR Implementation and Enforcement
Implementation of EUTR, a regulator's perspective by Deanne Hughes, Office of Product Safety and Standards (UK Competent Authority) - download presentation 

Challenges faced by Exporters and Operators to implement Due Diligence Procedures by Robert Weich, Tradelink Wood Products - download presentation

EUTR in Practice – Challenges and Solutions at Faber-Castell by Kathy Chiu, Faber-Castell - presentation coming soon
Session 2: Free Tools
There's free information and tools out there but what is it? How can it be used in a due diligence process? We looked at some of the key platforms and discussed how they can be used together.
A Responsible Timber Exchange for the procurement of legal and certified wood products by Grace Blackham, BVRio Environmental Exchange - download presentation

Timber Trade Portal: The Toolkit for EUTR by Caroline Duhesme, ATIBT - download presentation

NEPCon Sourcing Hub: everything you need for due diligence in one place by Alexandra Banks, NEPCon - download presentation
Session 3: Future Trends
The use of stable isotope analysis to verify the geographic origin of timber  by Charlie Watkinson, Agroisolab UK - download presentation

FOREST+: The Future of Forestry by Jesse House, Earth Observation - download presentation

Beyond due diligence: supporting production-level change in West Africa by Mike Senior, Proforest - download presentation
_______________________________________________________________________________________________________
This event was organised by NEPCon and funded by the LIFE Programme of the European Union and UK Aid from the UK government.