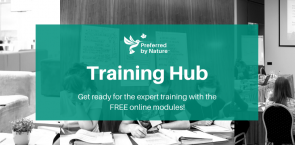 Location
Minneapolis, USA
Start Date
Tue, 12 Dec 2023
End Date
Thu, 14 Dec 2023
Ecosystem degradation has reached the far corners of our planet, from the precious rainforests to priceless reefs. The Convention on Biological Diversity declares that one of the main targets of the decade 2020-2030 is to ensure that at least 30% of areas of degraded terrestrial, inland water, and marine and coastal ecosystems are under effective restoration, to enhance biodiversity and ecosystem functions. This is a huge challenge for humanity to recover the ecosystem health and improve economic well-being.
But there is hope. We are seeing widespread discussions on the importance of ecosystem restoration and investment in that. However, the efforts need to be well designed, implemented, and monitored.
In this training, you will learn about what is at stake, gain knowledge and get specific tools for supporting the global effort of restoring the world's ecosystems. This registration is for the Ecosystem Restoration and Carbon Projects course, which consists of a three-day intense classroom training.
The course covers the comprehensive Preferred by Nature's Ecosystem Restoration approach and the Ecosystem Services main concepts, as well the key elements of the carbon initiatives assessment based on international case studies from different ecosystems.
The course agenda is to be added. The training will be held on 12-13-14 December 2023 in Minneapolis, Minnesota. The sessions start at 09:30 and finish at 18:30.  
This course is conducted in English. Please ensure that your language skills allow you to fully engage in presentations, group exercises, discussions, and examinations. 
For our other courses, please take a look at our Training Calendar 2023 or contact us at training@preferredbynature.org.
Course fee and discount options
The cost of participating in this three-day training course is 1,800 USD, excluding accommodation. The course fee covers tuition, training materials, coffee breaks, and lunches during the course.  
Special early bird price offer (10% from full price): 1,620 USD if you sign-up and pay latest two months prior (valid until 11 October 2023). Register and pay online right now!
Discount options: We offer a special discount of 30% for NGOs, 20x20 initiative, the Global Partnership on Forest Landscape Restoration, partners on the UN Decade, the FAO Task Force on Ecosystem Restoration Best Practices, FSC Network Partners, and university/college staff/students (Code: NGO30). Only a single discount can be applied per participant. All discounts are calculated from the full course fee.
Accommodation and practical information
The training course venue will be announced later. 
Once you complete the registration, we will get in touch with you about travel logistics and requirements and provide suggestion on accommodation. Please note we do not provide arrangements for your accommodation during this course.
Register for this course
We look forward to receiving your registration for the course, please fill in the form below.