Gain enough understanding of current timber legality requirements to proceed with your own due diligence process.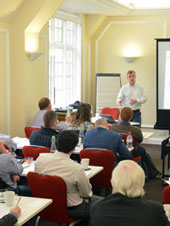 Bring your due diligence process to the next level within half a day or less! This short course is relevant for you if:
You need to get to grips with specific timber regulations. Gain a good understanding of the requirements of the EUTR and similar legislations. Learn what the implications are for your organisation.

You need to take the next step. You may already have a sound understanding of the legal requirements, and have now reached a stage where you need to take action or build your systems further.  

You need to overcome challenges. You may be well under way with due diligence, but are facing some issues that would benefit from expert feedback. An Intro Course can help you identify ways to ensure that your system and procedures are in line with the legal requirements.
Course contents
Learn about:
Core requirements of the EUTR and potentially other timber laws.

Key steps necessary to put due diligence into practice.

How to create a road map for your own due diligence process.
The precise focus of the course is adapted to match your organisation's context. Your current situation and knowledge level form the point of departure.
To enhance your learning, we recommend that you share some real examples from your current situation for discussion during the training.
This provides a better understanding of what due diligence implies in practice for your organisation.
Who should attend?
This depends on the purpose of the Intro Course. In order to raise awareness of the EUTR requirements across your organisation, you may want to include a broader range of staff. If the purpose is to discuss specific issues or challenges, it may be more appropriate to limit the session to staff with key due diligence responsibilities.
You may also consider the value of involving selected suppliers in the training, depending on their role in your due diligence process.
Training format and duration 
The training can be web-based or we can deliver the course face-to-face at your premises. We offer the course in many languages. 
The duration of the course is two-four hours, depending on your current level of knowledge and learning needs.
Request a LegalSource Intro Course
To explore your options or request a LegalSource Intro Course, please contact us at training@preferredbynature.org 
Note: You may also want to join one of our open timber legality training events. To receive event announcements, subscribe to our newsletter.