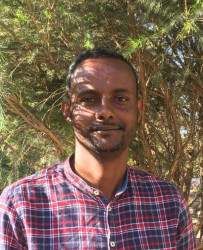 Biyensa Gurmessa Dubiwak
bgurmessa@preferredbynature.org
+251930650810
bgurmessa
Biyensa main role is coordinating and conducting certification services, including onsite audit fieldwork and desk evaluations, with a primary focus on Preferred by Nature's Rainforest Alliance Sustainable Agriculture services, C.A.F.E. Practices, UEBT, and GlobalG.A.P.
I am impressed with what Preferred by Nature aspires to achieve, and I want to be part of the great team and the Preferred by Nature community to work toward promoting the sustainable utilisation of natural resources. I would love to apply my 10+ years of experience I have gained working with public institutions, research for development, and international NGOs. 
Biyensa is engaged in the provision of customer service to current and potential clients, including the provision of information about certification and the audit process, guidance on how to understand the certification standards, and trademark use.
Aside form that, he also oversees and coordinates the execution of audits for a portfolio of clients, including budgeting, preparation of service contracts, identification of audit team members, logistical planning, report review, liaison with clients and finalisation of reports for approval.
Biyensa acts as Preferred by Nature's Ethiopia representative and supports sales and marketing functions for Preferred by Nature services in the region in both assurance and non-assurance businesses of the forestry division.
Biyense joined Preferred by Nature in 2022.
Skills at a glance
Speak English, Amharic, and Afaan Oromoo
Sustainable agricultural intensification
Integrated soil management
Research for development
Communications