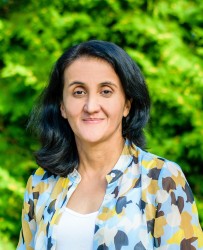 Gabriela Menacho
gmenacho@nepcon.org
591-3-3325042
gabriela_menacho
Gabriela supports Preferred by Nature South America Regional Office in all its administrative and operational needs. In her position, she is responsible for a range of administrative duties, including maintaining administrative procedures according to Preferred by Nature policies and protocols, and abiding by local regulations.
Gabriela began her career working for the CFV, a national initiative of the Forest Stewardship Council in Bolivia in 1997. Then in 1999, she started working for the World Wildlife Fund (WWF) in Bolivia until January 2001 when she joined Rainforest Alliance (RA). She wore different hats throughout her career at RA.
She has a bachelor's degree in Business Administration and a Diploma in Tax Legislation.
Gabriela joined Preferred by Nature in 2018.
Skills at a glance
Proficient in Microsoft Office including Excel and PowerPoint

Able to work under pressure

Detail-oriented and excellent multitasking skills

Languages spoken: Spanish and English