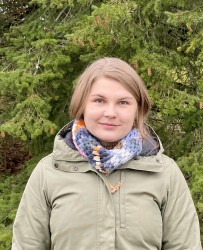 Laura Erik
lerik@preferredbynature.org
+372 7 380 723
+372 53 426 839
Laura Erik
As a Supply Chain Specialist, Laura is involved in a variety of certification, auditing and promotional activities in Preferred by Nature. 
The importance of sustainable practices in forestry and wood-based industries is nothing new, but I think that as awareness about the need for a more viable way of living is spreading, so will the general understanding of what the term means and how people - as consumers - can influence it. From what I know about the Estonian wood industry sector, it has always been open to innovation and has high standards, which the chain of custody certification process supports. I am glad to be able to contribute to this process and to work with like-minded people in Preferred by Nature.
Laura conducts chain of custody audits to ensure compliance with international sustainable management certificates (FSC/PEFC/SBP). Aside that, she is also involved in assisting the marketing of the products and services of Preferred by Nature within the scope of Estonia.
Skills at a glance
Bachelor's degree in Forestry
Master's degree in Forest management and forest ecology (in progress)
Languages spoken: Estonian, English and basic German