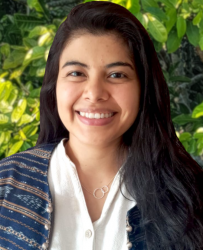 Ana Gabriela López Camey de Schrader
aglopezcamey@preferredbynature.org
Ana Gabriela is part of the PAS team on a six-month term, focusing primarily on assisting Preferred by Nature with the HARMONITOR project. This means she will use the Sustainability Framework extensively and work closely with the SAI team. Ana Gabriela is also aiding in any relevant tasks detailed under the FOLUR project and other tasks as assigned. 
Sustainability in production systems has been the guiding principle for my education and career path. I am excited to work at Preferred by Nature, where I can contribute to a team that is making a meaningful impact on the environment and society. HARMONITOR is particularly exciting and motivating to me, because it is about making Certification Schemes and Labels robust and efficient at the European level. With my academic background and hands-on experience, I look forward to using my skills and knowledge to help the organisation achieve its sustainability goals.
Ana Gabriela participates in the benchmarking of Certification Schemes and Labels (CSLs) as detailed in the WP4 of the INT-087 HARMONITOR project description. This includes reviewing the CSLs and applying the Sustainability Framework. Her work also consists of assisting under the WP6.1 of the HARMONITOR project. 
On top of these, Ana Gabriela aids in relevant tasks for the INT-090 FOLUR and other related projects. 
Skills at a glance
BSc in Bio-environmental Systems Engineering
Postgraduate in Agroforestry
MSc in Sustainable Tropical Forestry and Forest Livelihoods
Background in Environmental management and green entrepeneurship
Global and cultural diversity experience, having worked in Denmark, Germany, Guatemala, Nepal, Peru, and Taiwan
Fluent in Spanish, English, German and Mandarin Chinese