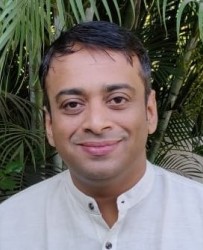 Aadarsh Mohandas
Regional Director, South Asia
amohandas@preferredbynature.org
+91 931 9430 111
+91 9 11 11 33 99 0
aadarsh007
Aadarsh oversees Preferred by Nature operations in the subregion of South Asia. He is responsible for client relationship management as well as exploring new market opportunities in the region. He ensures that Preferred by Nature remains a trusted partner by delivering credible sustainability services to its clients with ethics and integrity. 
Preferred by Nature is an unparalleled platform for me to deliver sustainability services to our clients whilst maintaining the highest levels of integrity and ethics.
Aadarsh is passionate about contributing market-driven sustainability solutions that foster eco-friendly choices for consumers. Aadarsh holds an Erasmus+ Masters in Agroforestry from Bangor University and a master's degree in Agriculture Development from the University of Copenhagen. He completed his BSc in Forestry with a distinction from the Tamil Nadu Agriculture University.  
He has worked in various capacities in the sustainability industry including consulting, academics, and quality assurance. He has wide international experience having worked in Asia, Africa, Europe and Latin America. He is experienced as an auditor for various organic standards, FairTrade, GlobalG.A.P. Aadarsh is also a technical expert for FSC and RA-SAS certification schemes. 
Aadarsh joined Preferred by Nature in 2018.
Skills at a glance
Extensive knowledge in GlobalG.A.P., Organic Agriculture Standards (NOP, NPOP, IFOAM, FIPA-Korea, COR, IACB, EU), FSC, RA-SAS, Fairtrade, Trustea

Quality assurance, audit planning, auditing and evaluation of organic, sustainable agriculture and forestry standards.

Countries worked in: Costa Rica, Ghana, Uganda, Nigeria, Ethiopia, Tanzania & Zanzibar, Mozambique, Mauritius, South Africa, Vietnam, Sri Lanka, Denmark, United Kingdom.

Languages spoken: English, Hindi, Tamil, Malayalam