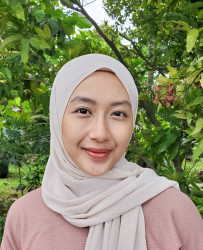 Adinda Gusti Ariani
agariani@preferredbynature.org
adindagstariani
Adinda provides assistance mainly in administrative support to the Training Manager of Preferred by Nature Training Programme. 
I believe that humankind should be kind to the nature the way it has always been kind to us and provides us with all our essential needs. I have also been passionate to preserve the environment since young age, and there is nothing more fulfilling than being able to take part to support the environmental practices for sustainable future whilst connecting with people around the world to achieve that. I can see all the actions and impacts through Preferred by Nature and I am thrilled to be part of it! 
As a Training Assistant in Preferred by Nature, Adinda is responsible for assisting the Training Manager in training administration including creating training engagement, helping with organisation of training materials and participants' course.
In her role, Adinda also ensures the course related information are up to date, help arranging the venue, and minutes of training events. 
Skills at a glance
BSc in Biology 
Event Management 
Research 
Languanges spoken: English and Indonesian