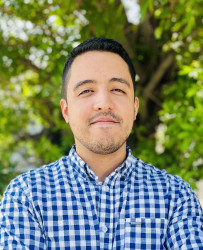 Christian Rodrigo Eguizabal Marticorena
ceguizabal@preferredbynature.org
+51 914935780
bioceg
Christian uphold Preferred by Nature's mission to support better land management and business practices that benefit people, nature and the climate, and contribute to identifying, pursuing, and implementing opportunities where Preferred by Nature can have a positive influence.
I consider Preferred by Nature to be an organisation that can provide me with opportunities for personal and professional growth through constant challenges, the search for innovation and the generation of knowledge. This pleasant work environment, promotion of teamwork and passion for generating a positive impact, motivated me to want to be part of the team.
Christian supports Preferred by Nature's Agriculture and Forestry certification services. He serves as an auditor and task manager on programmes such as the Rainforest Alliance, Supply Chain (CoC) certification programs, C.A.F.E. Practices, other related agricultural schemes, FSC Forest Management (FM), etc., in Peru and other Latin American countries.
Christian also coordinate a portfolio of clients and perform audits for Preferred by Nature's certification services, including scheduling audits, on-site visits, report writing, review, and quality control. He functions as a representative of Preferred by Nature to stakeholders and promotes Preferred by Nature's public image and reputation.
Christian defines himself as a communicative, enterprising, positive and analytical person that always looking for alternatives and opportunities to solve a problem. He is passionate about interacting with other people, reading, sports and the search for multidisciplinary knowledge. He is a self-taught person. So, if there is a subject of interest or skill that he wants to learn, he will look for a way to do it.
Skills at a glance
participated in research projects related to the search for green alternatives to improve interesting characteristics of some crops such as quinoa, cocoa, tomato and blueberries
involved in communication and training of farmers in the use of PGPR bacteria
fulfilled the role of environmental inspector at UNALM, communicating and promoting the eco-efficient use of university resources, as well as supervising compliance with the current eco-efficiency regulations
knowledge of the implementation of ISOs in the agro-industrial and pharmaceutical sector 
prioritises and excels in teamwork