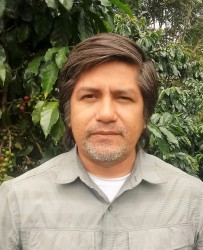 Helgar Zelada
hzelada@preferredbynature.org
+51 9388 08366
helgar.zelada
Helgar Zelada is responsible for scheduling and conducting agricultural audits across South America.
Through certification services, I can contribute to the sustainable development of companies and communities, taking into consideration social and environmental aspects.
His other responsibilities include providing support for market development activities for Preferred by Nature certification services within the region.
Helgar completed his postgraduate studies in environmental engineering. He has vast experience in organic and sustainable certification for coffee farmer organisations (Cooperatives).
He has extensive experience working as a senior organic certification inspector. Since 2007, he was lead agriculture and chain of custody auditor for the Rainforest Alliance Sustainable Agriculture Certification.
Helgar joined Preferred by Nature in September 2019.
Skills at a glance
Postgraduate studies in environmental engineering

Experience as lead

agriculture and chain of custody auditor for the Rainforest Alliance Sustainable Agriculture Certification.

Experience in organic and sustainable certification for coffee farmer organisations