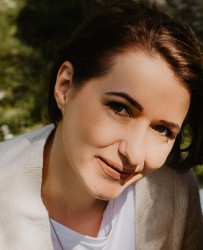 Iwona Kopczyńska
Certification Services Coordinator
ikopczynska@preferredbynature.org
+48 605083183
live:.cid.65a7360faca76d17
Iwona is responsible for our organisation's sales, marketing and business development activities in Poland. She is also in charge of trademark approvals, organising events/trainings and translations. 
I want to develop, grow and contribute as best as my capabilities to this culture- and environment-oriented organisation.
Iwona has spent many years in administrative and customer support roles. She has been constantly collaborating with other departments to perform and coordinate international relations with clients.  
Together with a team of specialists, she is dedicated to current partner service and solving problems associated with certification systems. She is in charge of identifying and explaining any deviations and verifying all certification-related documents. Her aim is to build and develop the trust relationships with partners and ensure that they are in good hands.
Iwona is an open-minded person who has international work experience, education and volunteering practice. She has strong communication and problem solving abilities, as well as analytical skills and proven record of accomplishment in servicing clients and project management in international environment. 
In her personal life, Iwona is an active person who practices hygge philosophy by embracing a slow lifestyle and nature in her home. She tries to keep her family's happiness index on a very high level. 
Iwona joined Preferred by Nature in 2022.
Skills at a glance
Client's care
Trademark approvals
Project management
Negotiation skills
Customer approach
Languages spoken: English, Polish, Russian