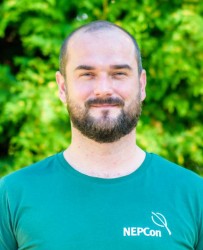 Tudor Serban
Forest Management Coordinator and Supply Chain Specialist
tserban@preferredbynature.org
+40 751933523
Tudor is a Preferred by Nature Auditor from Romania and his role is to help with the development of the Romanian office. His tasks include certification activities, auditing, Forest Management certification coordination and monitoring, marketing and promotional activities.
I am grateful that Preferred by Nature equips me with the necessary knowledge and tools to contribute towards creating a sustainable world.
He passed the training courses for the FSC and PEFC Chain of Custody, FSC Forest Management and LegalSource certification.
Tudor has a Bachelor's degree in Environmental Engineering, a Master's degree in Environmental Management and Protection and he is continuing his studies in Forestry. He has worked in biodiversity research projects since 2013 and he is driven to find ways for a sustainable world through his every day work.
He has been working with Preferred by Nature since 2014
Skills at a glance
FSC/PEFC Chain of Custody auditing
FSC Forest Management auditing, coordination and monitoring
GIS processing
Management of protected areas
Biodiversity research
Environmental assessment
Life+ projects
Languages spoken: Romanian, English