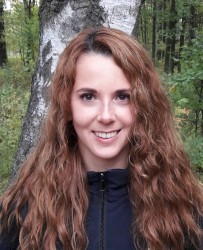 Alexandra Paikacheva
apaikacheva@preferredbynature.org
+7 981 550 82 00
Alexandra Paikacheva
Alexandra conducts FSC and PEFC Chain of Custody and FSC Forest Management audits in Russia.
In today's world, the problem of ecology is especially acute, human actions threaten the environment more and more, so people should be responsible for their actions and assess the ecological effects of man-made activities. We should use gifts of nature without disturbing ecology, we should care for the environment. So, I am glad that my work in Preferred by Nature gives me an opportunity to contribute to the conservation of our planet's natural resources.
Alexandra has a degree in forestry. She was previously attached to a logging company as an engineer of the planning and control group for its forest fund development.
Prior to joining Preferred by Nature, Alexandra was a specialist in the landscaping department for Local Municipality. Alexandra successfully completed the Preferred by Nature FSC Forest Management and Chain of Custody training courses in 2018. She started working for Preferred by Nature as an auditor, on a freelance basis. 
Alexandra joined Preferred by Nature in 2019.
Skills at a glance
FSC and PEFC Chain of Custody auditing

FSC

Forest Management

auditing

Languages spoken:

Russian

and English