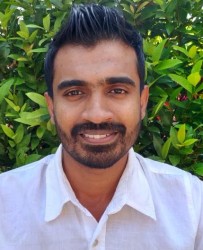 Anuranga Herath
aherath@preferredbynature.org
+94 7707 99319
Anuranga Herath
Anuranga is responsible for coordinating and conducting agriculture audits in line with a client's portfolio. His tasks include but are not limited to scheduling audits, organising onsite visits, writing reports, ensuring quality control at all levels and delivering good customer service.
I am happy that my work at Preferred by Nature will help increase environmental and social sustainability in the agricultural sector through activities that conserve and preserve natural resources.
Anuranga has a Bachelor of Science in Biological Science from the University of Colombo and a Master of Science in Forestry and Environmental Management from the University of Sri Jayewardenepura. 
Since he began his career in June 2014, he had implemented certification systems to ensure compliance with sustainability. He has experience with planning, implementing and monitoring audits for agricultural crops such as cinnamon, pepper, tea, rubber, oil palm, coconut, coffee and fruits.
Anuranga also has sound knowledge of forest plantation management. He is passionate about environmental sustainability and protection, wildlife conservation, management and preservation.
He joined Preferred by Nature in 2020.
Skills at a glance
Rainforest Alliance and FSC Forest Management and Chain of Custody audit

Sound knowledge in Fairtrade, ISO 9001, ISO 22000, and Ethical Tea Partnership certification

BSc in Biological Science

MSc in Forestry and Environmental Management

Member of a working group for the development in FSCTM Interim National standard for Sri Lanka

Languages spoken: Sinhala and English