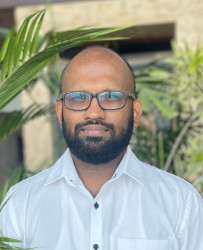 Tharindu Weerakoon
Country Manager Sri Lanka
tcweerakoon@preferredbynature.org
+94 777623218
Tharindu focuses on audits for Rainforest Alliance, the Forest Stewardship CouncilTM (FSCTM) Forest Management and Chain of Custody, Sustainable Rice Platform (SRP), Union for Ethical BioTrade (UEBT) and other Agriculture schemes. He also serves as the point of contact for clients in Sri Lanka and the public face of Preferred by Nature in Sri Lanka. 
Preferred by Nature is good place to focus on environment, social and economic sustainability. By working with this organisation, I will be able to play a role in helping to achieve the Sustainable Development goals. 
 
Tharindu has a Bachelor's in Agriculture and Plantation Management from the Wayamba University of Sri Lanka. He is a planter with over 10 years of experienced in tea, rubber, coconut and other agricultural crops.
Tharindu served as a Sustainability and Certifications manager in a reputed Plantation company in Sri Lanka. He is an accredited Energy Manager for the Sri Lanka Sustainable Energy Authority. 
He is also an Associate Member of the Institute of Environmental Professionals Sri Lanka (IEPSL).
 
Skills at a glance
Extensive knowledge in Rainforest Alliance, Fairtrade, FSC, Eco Labelling, Carbon FootPrint, Quality Assurance, Energy Management, Sustainable agriculture and Forestry Standards.
Languages spoken: English and Sinhala
Trainings: 2020 Sustainable Agriculture Standards and Certification rules, GHG Auditee Training, Fairtrade Training Workshop (organised by Fairtrade Network of Asia Pacific), training on ISO 5001: 2018- Standard, Certificate in Occupational Safety and Health, training on Resource Efficiency and cleaner production