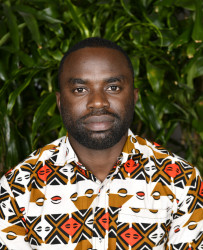 Steve Ngapout Mounchikpou
Senior Forestry Specialist
sngapout@preferredbynature.org
+237 680 29 31 67
steve.ngapout
Steve's overall function in the organisation is to uphold Preferred by Nature's mission to support better land management and business practices that benefit people, nature, and the climate, while contributing to identifying, pursuing, and implementing opportunities where Preferred by Nature can have a positive influence in line with our mission.
As an international organisation, with a high level of integrity and commitment to sustainability, my goal and motivation is to help Preferred by Nature achieve most of the Sustainable Development Goals in the African actual context by taking on new challenges. This position also helps me to meet more charismatic people in my work environment and benefit from a good sharing of experiences and diversity.
Steve is the Preferred by Nature key contact within the sub-region of Central Africa for clients and stakeholders. His position involves ensuring implementation of the organisation's mission by focusing on designing and executing the region's strategy, together with relevant divisions within Preferred by Nature. 
Steve also contributes to developing and maintaining relationships with clients/partners/institutions in Central Africa while providing relevant information that will strengthen Preferred by Nature's development strategy within the region. 
In his day-to-day work, Steve ensures that the Assurance forestry works is delivered according to technical protocols of Preferred by Nature as well as external accreditation requirements. 
Aside that, he supports the fundraising and project department along with other non-assurance work within the organisation. This also includes organising and facilitation training courses as well as offering support with project documentations. 
Skills at a glance
FSC FM CoC Auditor in training 
FSC supply chain Auditor in training 
Long experience in logging companies as sustainable management officer and internal auditor.  
Forestry engineer  
MSc Environmental management. 
Proficient in French and English