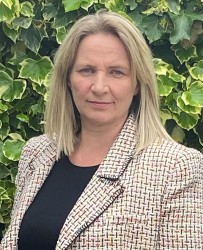 Suzi Mihell
smihell@preferredbynature.org
07309 772 087
live:.cid.5ea333c8f88be84
Suzi plans and conducts Forest Stewardship CouncilTM (FSCTM) Chain of Custody audits as well as Programme for the Endorsement of Forest Certification (PEFC) audits for Preferred by Nature's UK clients.
I joined Preferred by Nature to help make difference by promoting sustainable forestry. By working closely with the supply chain we are promoting responsible sourcing and helping make a difference for generations to come. 
As a Supply Chain Specialist in Preferred by Nature, Suzi's responsibilities include planning and executing audits according to international sustainability standards.
Skills at a glance
Prior to joining Preferred by Nature, Suzi worked in Environmental and sustainability for 6 years, helping the company minimise impact on the environment and developing responsible sourcing practices. 
Other areas of expertise include:
IEMA Certificate in Environmental Management
FSC & PEFC Chain of Custody Internal Auditing
NEBOSH Environmental and General Certificate
ISO 9001 Lead Auditor
Internal Auditor
BREEAM Associate