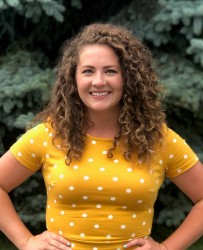 Makayla Andersen
Coordinator, Supply Chains
mandersen@preferredbynature.org
517-898-8803
makandersen2
Makayla works with FSC Chain of Custody clients. Her duties include scheduling audits, drafting budget, and providing technical support.
I have seen the importance of timber as a resource and the impact it has on the economy and environment. I enjoy working with clients and seeing the various products made from FSC certified materials.  
Makayla graduated from Aquinas College in 2016 with a degree in Sustainable Business.
She gained experience in auditing when she worked for an industrial recycling company that recycled metal and paper. She also was a member of her city's sustainability committee, where she worked on implementing a No Idling Policy.
She looks forward to building relationships with clients and providing technical advice on the FSC standards.
Makayla joined Preferred by Nature in August 2019.
Skills at a glance
BS in Sustainable Business and Spanish

Languages spoken: English and Spanish