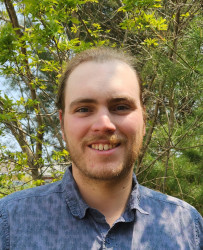 Patrick Harrison
Coordinator, Supply Chains
pharrison@preferredbynature.org
518-480-9127
Patrick coordinates certification audits and manages a diverse portfolio of certified organisations, covering a broad range of sustainable products and services. 
With a background in forest management, I learned to understand the importance of sustainable forest products to our world, communities, and individual lives. I was incredibly happy to take the opportunity to help ensure that forests are protected, workers have fair conditions, and consumers have access to sustainably certified end products. 
As a Supply Chains Coordinator in Preferred by Nature, Patrick plans, budgets, and conducts Forest Stewardship CouncilTM (FSCTM) Chain of Custody Audits, ensuring that our clients are in compliance with their relevant FSC standards.
He also serves as the main contact for Preferred by Nature clients, answering any questions they may have about certification and striving to make the process more manageable for organisations at any step along their sustainability journey. 
Skills at a glance
2019 Graduate of State University of New York College of Environmental Science and Forestry with a degree in Forest Resources Management
4 years experience as a Field Forester, directly managing certified forester
Experience being audited by Preferred by Nature
Excellent organizational and database management skills