The use of timber in green construction is a growing trend worldwide.  Backed by innovative techniques, its eco-friendly characteristics spell golden times for  sustainable timber as a sought-after material.
Worldwide, timber and wood products are seen as increasingly integral to low environmental impact green building. For this and other reasons, timber-based construction systems are gaining ground, and the use of sustainable timber in buildings is set to grow across the world.
The green building no brainer
Of course, the natural characteristics of wood are central to its green building potential and broader appeal in an increasingly environmentally sensitive construction sector.
"Construction still accounts for a huge share of carbon emissions," said Michael Green of Vancouver-based MG-Architects, famed for his impassioned pro-timber TED talks.
"But, while man-made building materials generate carbon in production, timber absorbs and stores it, at one tonne per m3. It requires less energy in processing. It's renewable and delivers less energy greedy structures. It is the green building no brainer."
But Green and other construction professionals stress, there's increasingly more to timber's green building bow than these inherent properties. Adding to its appeal are the emergence of innovative, eco-friendly building approaches, for which timber is particularly appropriate. Also, a new generation of high specification wood products are capable of competing with concrete and steel in demanding structural applications.
Game-changer 1: Offsite construction
Among the former, said Craig White of UK architects White Design, is offsite house prefabrication. "Offsite construction is faster and more efficient, and in the UK seen as key to meeting our 100,000 per year house construction shortfall," he said.
"Because components are made in controlled factory conditions, it also delivers more air-tight, better insulated buildings. As a result, the UK government additionally regards it as a means for achieving its 2016 goal for all new homes to be zero carbon, and it's targeting tenfold offsite growth."  .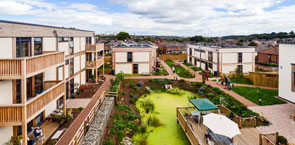 ModCell's offsite prefabricated LILAC housing development.
Timber-frame, he added, is especially appropriate for offsite as it doesn't require masonry's drying processes. It's also lightweight, so easy to manhandle in large sections. In fact it currently accounts for 90% of UK offsite output and White Design sister company Modcell uses it for its own panellised engineered wood, and straw-insulated houses.  
"Manufacturing offsite, we can get seven houses erect and weather-tight in ten days," said Mr White.
Game changer 2: BIM and Life Cycle Analysis
Added momentum for timber comes from growing adoption of Building Information Modelling (BIM) software, for raising construction efficiency and building performance, and life cycle analysis (LCA) to map cradle to grave eco impacts.
"Engineered wood and prefabricated timber systems are suited to BIM and timber's carbon credentials mean it scores well in LCA," said Mr White. "In fact, LCA calculations show timber building is an optimal solution for carbon capture; costing €26 per tonne, against €70-90 for fossil fuel sector methods."
Game changer 3: Engineered wood products
For Michael Green, another game changer for wood in green building, and construction per se, are latest generation engineered or mass-timber products, notably glulam and cross laminated timber (CLT).

Engineered wood consists of wooden particles, strands or fibers bound together by an adhesive. 
These are the products behind recent ground-breaking high rise timber buildings, including ten-storey blocks in London and Melbourne, Bergen's new 14-storey, 52.8m TREET tower and MG-Architecture's six-storey Wood Innovation Design Centre in Prince George, Canada's tallest timber structure.
Some architects now see CLT projects of 20-30 storeys on the horizon. And the material provides the structure for the 42-storey block blueprint developed by Chicago practice SOM under the Timber Tower Research project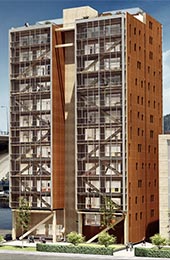 The 14-storey wooden skyscraper TREET in Bergen, Norway, is stil under construction. It will be the tallest wooden structure in the world. Designed by Artec. 
"Mass timber is our first new mainstream structural material in 150 years," said Mr Green. "It's not just the construction media for the low carbon era, it is enabling us to rethink architecture."
Green also sees pressure growing for green building schemes, like LEED, Green Globes and BREEAM, to give greater recognition to mass-timber's inherent carbon and other values.  "They're still behind the curve here," he said.  "But there's a groundswell for them, and general building codes, to address this."
Benton Johnson of SOM says engineered/mass-timber is an especially valuable urban construction solution. "Urbanisation is an accelerating worldwide demographic shift and mass timber provides a low carbon footprint, quick build route for us to cope."
Underlining America's growing confidence in the sector, he pointed to a new collaboration between DR Johnson Lumber and ecotech investor OregonBEST to develop America's first structural grade CLT plant.
The more it's used, the more engineered wood's wider performance benefits are being appreciated and adding to its impetus. 
For instance, besides the 819 tonnes of carbon stored in its 1090m3 CLT structure, lightness was a key attraction for employing the material for London's new seven-storey Kingsgate House apartment block.
"It's a fifth the density of concrete and a third the weight," said Steve Cook, of contractor Wilmott Dixon. "In towns that's a benefit as it means less intrusive foundations and risk to complex underground services."
CLT is also quieter to build with and its strength to weight ratio means fewer, bigger construction components.
"For Kingsgate we only needed 23 deliveries for main structural elements, versus an estimated 200 for reinforced concrete frame," said Mr Cook.  
Demands for sustainable timber 
Modern timber's eco-friendliness remains core to making it the green building material of choice. Consequently its growing popularity is accompanied by a growing demand for verified legality and third-party proof of sustainability, notably FSC or PEFC certification. 
A central reason for us and clients choosing timber is to reduce environmental impacts, so we want categorical evidence we're not   contributing to illegal trade and deforestation," said Mr Green.  "We want more, and more rigorous third party verification, and a greater role for government auditing the auditors."
Mr Johnson at SOM also predicts still greater emphasis on timber's 'environmental paper trail', including validation of  'carbon content and life cycle criteria'.
Meanwhile, White Design now only specifies FSC or PEFC certified timber. "The exception is locally sourced material," said Mr White.  "Then we'll check woodlands ourselves."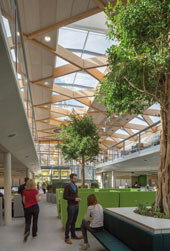 WWF's FSC project certified Living Planet Centre in London.
In the UK, growing demand for certification is reported from self builders at one end of the construction spectrum(who build 15,000 houses annually), to major contractors at the other.  
"The UK Contractors Group, comprising 30 companies with a turnover of £33bn, is now committed to buying only certified timber, and regular reporting on its use," said Willmott Dixon's Mr Cook.  
Several of NEPCon's certified UK clients already benefit from these trends:
Smartroof Ltd builds complete roof structures in fully insulated panelised form, delivered to site in a single load which assembles in just hours. With the reduction of on-site labour and the associated safety benefits, Smartroof is experiencing strong growth within the house-building sector.  "With our PEFC certification, our customers can see Smartroof is a progressive company in both design and manufacturing output", states Managing Director Peter Norden.
Keylite Ltd produces timber roof windows. Managing Director John Duffin says, "Keylite's strong year on year growth demonstrates the lasting appeal of the natural warmth and aesthetic appeal of our windows. Our FSC certification shows the builder and end user that we are a company that cares about the materials we use". 
FSC and PEFC schemes set to benefit
The schemes themselves also see green building increasing certification demand.
"Of FSC's 29,600 certificate holders, 3.2% are construction contractors and 3.3% building product manufacturers," said Brad Kahn of FSC US. "Many other FSC wood processors and traders, distributors and importers are also part of the certified construction value chain. The sector is of enormous importance to us."
"It's disappointing [some European] codes still give FSC products relatively few credits," said Mr Kahn. "But the single credit awarded in LEED has been transformational globally – 40% of LEED projects now earn it."
The PEFC also views this as a significant market direction. "We've seen a rise in national green buildings councils, from BREEAM to Green Globes, recognising the benefits of sustainably sourced, certified timber and rewarding PEFC material with extra credits," said secretary general Ben Gunneberg. "The sole exception for us is LEED. But we're liaising with them and others to consolidate this trend."
Green building's growth is also predicted to increase demand for project certification, where the certificate applies to timber throughout a development, or specific timber-based structures within it.
So far 71 FSC project certificates have been awarded, with 28 more in the pipeline, and 50% are in the UK. But FSC expects the spread and number to rise, with proposed higher profile international promotion after next year's project standard revision, where the level of full FSC-certified, mixed or post-consumer material it requires looks set to rise from 50% to 70%.
Machiel Spaan of the Dutch M3H Architecten says: " We're now going for FSC project certification of most of our design and build commissions. This enables clients to be sure of the origin of every element, even if it's hidden in a structure or component. It makes everyone in the process aware that using certified wood is an important common goal."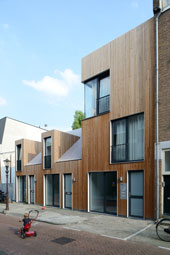 Wooden building in Amsterdam designed by M3H Architecten.

To date PEFC project certification, which requires 70% PEFC material, has only been taken up on one major development, London's Kingsgate House.  But it's also expected to grow.
"It seems clear that construction will be the next big driver of timber certification. FSC og PEFC are both likely to benefit from this trend", predicts NEPCon UK & Ireland Deputy Manager Elisa Colpo. 
She strongly believes that certified timber is set to play a major role in construction in the future. "This is about taking care of our environment and climate, but also about new and exciting design. In addition, certified timber tells a story that lasts all through the building's lifetime. Knowing that your responsible choice of material supports the world's forests adds to the pleasure of a comfortable home", comments Ms Colpo.