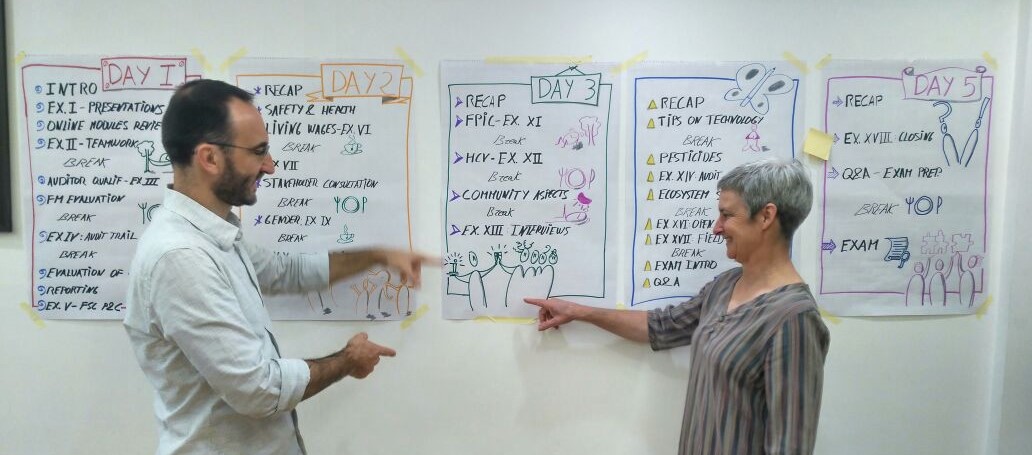 India and Ghana have been added to NEPCon's extensive list of training locations. Earlier this year – for the first time in these two countries – we delivered training on FSC™ and Rainforest Alliance sustainable agriculture.
For NEPCon, 2018 was a year of growth through acquisition of RA-Cert, the certification division of the Rainforest Alliance. The acquisition bolsters our reach and scale. In addition to offering certification, verification and assurance services globally, we recently held our Expert Courses in two new regions to NEPCon – South Asia and Africa.  
FSC Expert Courses by NEPCon for the first time in South Asia
 Following the establishment of NEPCon's South Asian regional hub in India, we organised NEPCon's first FSC Chain of Custody (CoC) and Forest Management (FM) Expert Courses in New Delhi, India.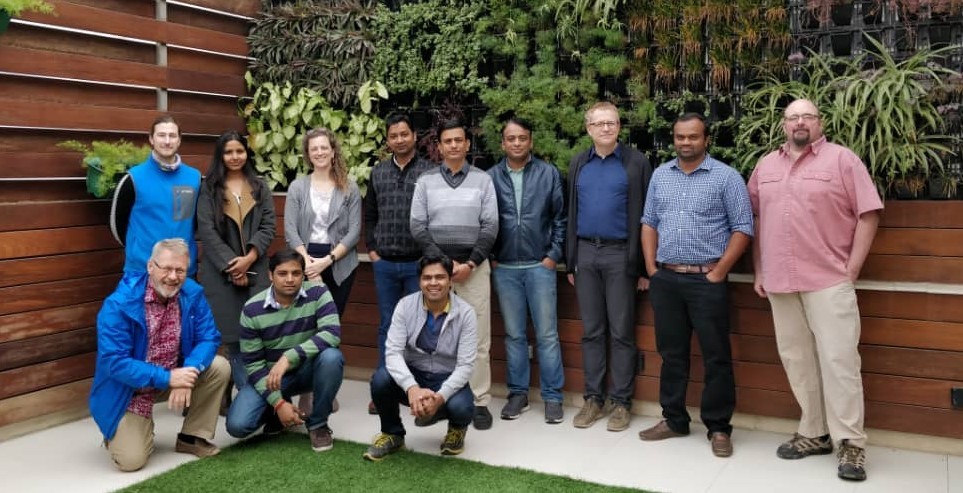 Participants from WWF India and FSC India attended the Expert Courses. Seven joined the FSC CoC course from 30 January to 1 February 2019, while eight participated in the FSC FM course from 4 to 8 February 2019.
 "The FSC CoC training is superb and I genuinely enjoy each and every moment of it. The content is extremely informative and incredibly useful. I am particularly impressed with the practical use of the theoretical concepts during the group exercises."
"This is exactly what I expect from a training," said participant, Narendra Mohan from WWF.
Senior Advisor FSC India, Dr TR Manoharan, who participated in FSC FM Expert Course said, "It was an enriching experience for me, to (be able to) understand FSC FM certification from the auditor's perspective. Talented, professional trainers – Mateo Fraisse and Malory Weston made the intensive Expert Course memorable and valuable to each of the participants."
Both courses required participants to work in teams to complete various activities. They were asked to apply theories and principles learned in the classroom to different role-playing exercises.
NEPCon trainers, who are also Lead Auditor, Malory Weston, and Chain of Custody Lead Auditor Julie Møhl Laursen, delivered the FSC CoC Expert Course.  
The FSC FM Expert Course was conducted by NEPCon Land Use Programme Manager, Mateo Cariño Fraisse, and Malory Weston.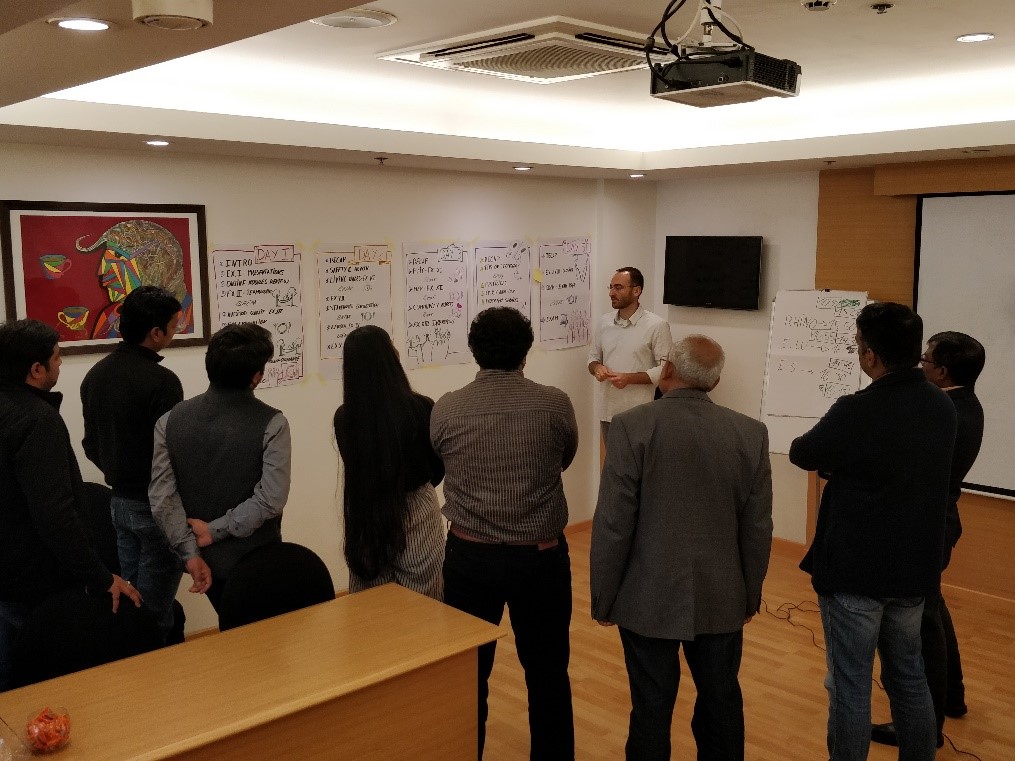 NEPCon expands training presence in Africa
Eighteen sustainable agriculture auditors, consultants and professionals learned about the Rainforest Alliance Sustainable Agriculture Standard for Farms, Group and Chain of Custody (CoC) Certification in this first NEPCon Expert Course organised in Accra, Ghana.
This seven-day course consisted of four days of preparatory classroom training and one day of on-site audit as well as two days training for the CoC Management System. 
Participants were brought to Sam Valley Farms at Awutu Abreful in the Central Region of Ghana, West Africa, for the on-site audit to emulate real-life audit. Sam Valley is GLOBAL G.A.P, Fairtrade and Rainforest Alliance Sustainable Agriculture Standard-certified. The company harvests and exports MD2 pineapple varieties from a packhouse and do not have processing activities.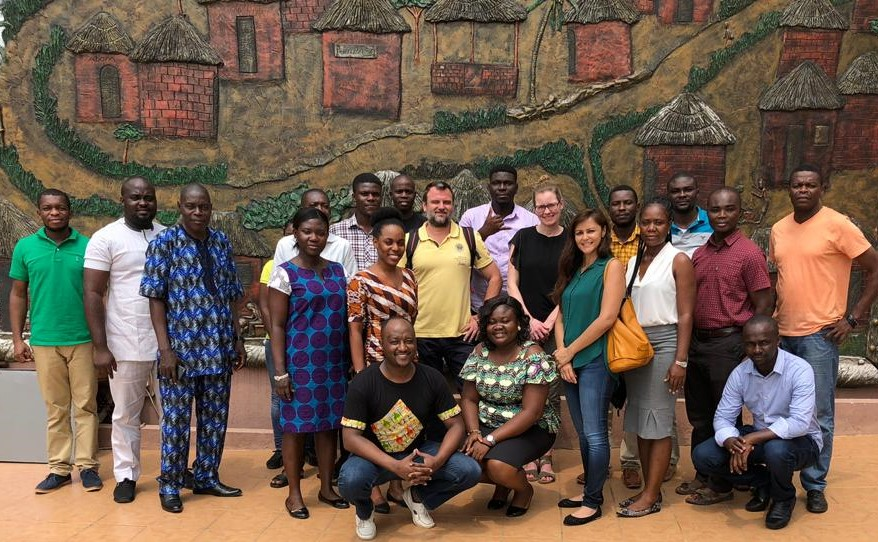 Participants were split into four teams. They reviewed documents, conducted interviews and field visits to production areas, high conservation value (HCV) and protected areas, waste management sites, chemical facilities and warehouses. After collating their audit evidence, all teams presented their findings to the trainers. Marks were awarded based on their performance.
This course focused on auditing policies and principles as well as agriculture certification standards such as Rainforest Alliance Sustainable Agriculture Standard 2017, Certification and Transition Rules for Farms and Group Administrators, Rainforest Alliance Sustainable Agriculture CoC Standard and Policy, and many more.
"(The training) is very educative and informative. RA SAS training has broadened my horizon since I am more familiar with FSC and RSPO. I hope to be able to conduct more field audits to gain experience to be able to conduct audits against the Rainforest Alliance Sustainable Agriculture Standard, on my own or in a team (in the future)," said participant Frank Kwesi, who is a freelance auditor from Ghana.
Adedamola Adesida from Nigeria said the training provided an insightful overview of RA SAS. "The trainers provided real-life case studies and that's why the course was more than just your average lecture," he added.
This Expert Course was conducted by NEPCon trainers, who are also Sustainable Agriculture Programme Specialist, Debora van Boven-Flier and Senior Agriculture Specialist, Anthony Prah.
Upcoming courses
NEPCon's Expert Courses are offered in Europe, North and South America, Africa and Asia. To learn more about other courses in other languages, check out our Upcoming Training Calendar for 2019 or contact us at training@nepcon.org.

In May this year, we are also launching a new course on Ecosystem Services. This Expert Course will enable you learn how to measure and certify the impacts – in the context of the FSC system – on water, soil, carbon, tourism, and biodiversity assets. This three-day course has been developed exclusively by NEPCon and will be delivered by experienced NEPCon and FSC trainers.
Don't miss out on this opportunity to explore mutually beneficial solutions for people and the ecosystems. Learn more and register here.