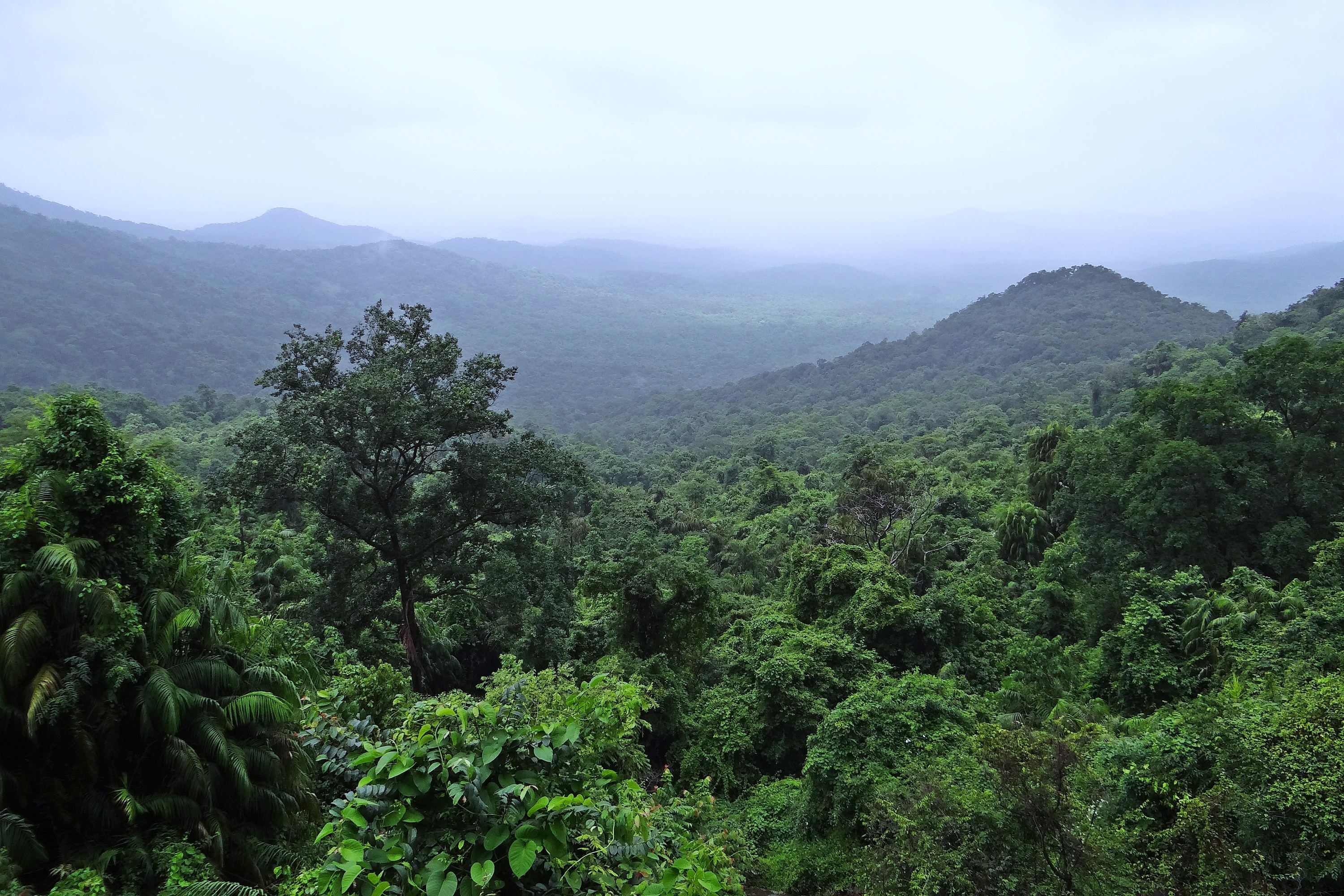 Brand new National Risk Assessments from some of the world's largest producer countries of palm oil, soy and beef products open up new doors to minimise companies' negative impacts on people and planet.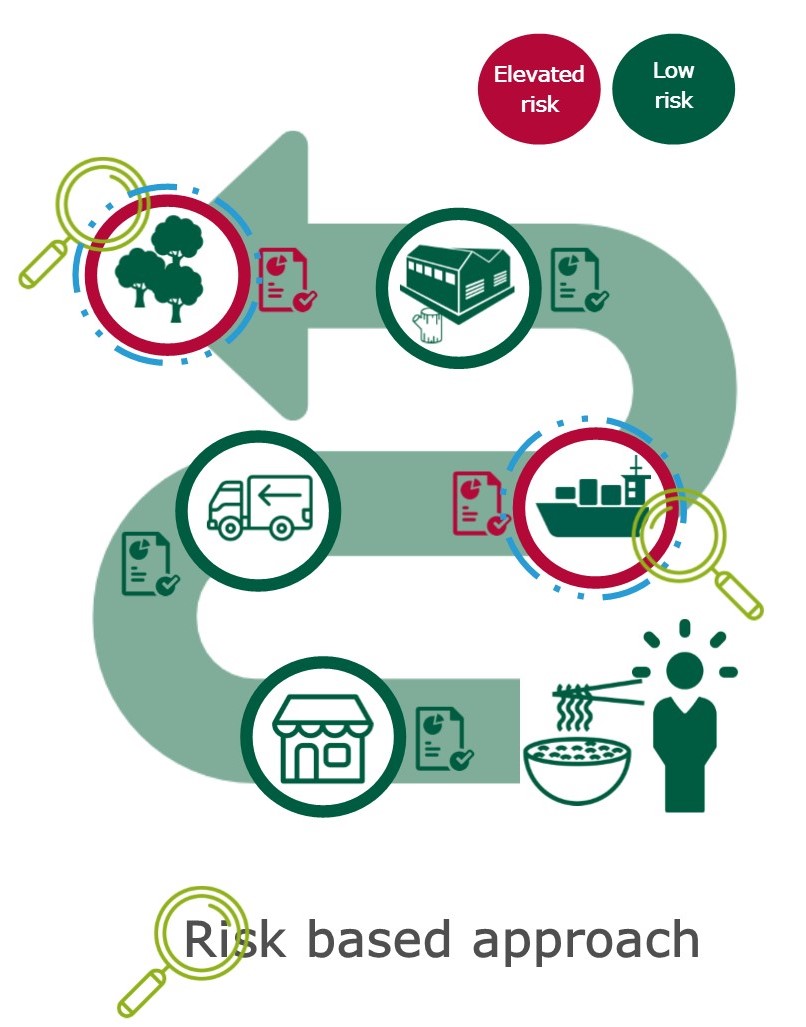 It is difficult to source palm oil, soy and beef responsibly. Maybe a whole swathe of rainforest was cut down to plant the palm oil plantation. Maybe child labour was used to harvest the soy, or maybe the cattle range was illegally obtained by land grabbing and bribery. From the point of view of a food company in Denmark, these risks seem like they are a long way away and that they're difficult to control. How can they best be mitigated?
A new DANIDA-funded project has a good suggestion. The project Responsible Sourcing of Soy, Cattle and Palm Oil is working to support Danish companies source these commodities responsibly. The idea is to transfer the "due diligence" approach for responsible sourcing in the forestry sector to the agricultural sector. The project is being run by SEGES, a Danish association that brings agricultural expertise, and NEPCon, a non-profit organisation that brings experience of using a risk-based due diligence approach in the forestry sector. 
National risk assessments – A new super tool
NEPCon and SEGES are working with companies in Denmark to pioneer the idea of using so-called National Risk Assessments to evaluate risk in the agricultural sector. National Risk Assessments evaluate countries that produce palm oil, soy and beef for business, social and environmental risks against five to seven CSR principles and 16-19 criteria[1]. The principles are:
Business issues: that taxes and fees are paid or the land was not corruptly obtained.
Social issues: that civil, indigenous or traditional rights were not violated.
The Environment: that the environment was not harmed.
Conversion: that natural forests were not destroyed.
GMOs: that genetically modified organisms were not involved.
Animal Welfare: that animal welfare was not harmed.
Traceability: that movement of animals between suppliers does not happen without being documented.
National Risk Assessments could also be useful for other food companies working directly or indirectly with other forest impact commodities like cocoa, coffee, tea, rubber, cotton and rubber. You can see the full list of indicators that National Risk Assessments evaluate risk against here.
For each of the 16-19 criteria, the risks are categorised as low risk or elevated risk in the National Risk Assessments. This enables companies to take action where the need is most urgent and where the impact will be largest.
National risk assessments are now available for: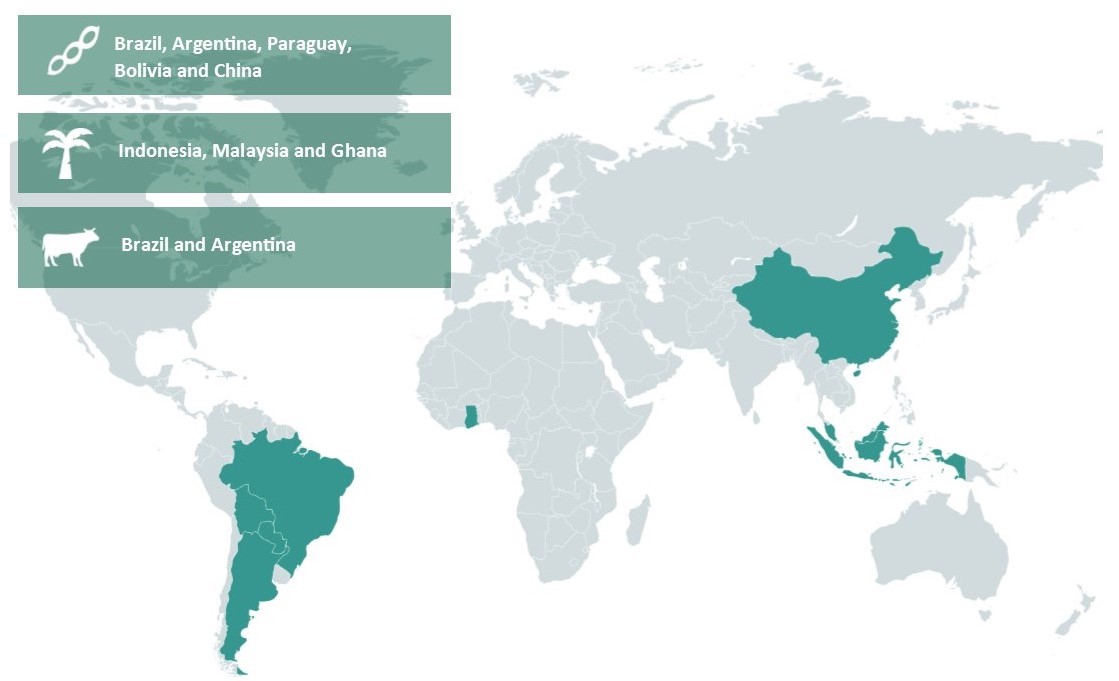 The National Risk Assessments have a great innovative potential because they can be used as a thorough reference tool to assess the level of risk in supply chains that originate from these areas in a very targeted and specific way by directing attention to the area that pose the highest risks.
This can provide companies with the means to make a risk conclusion about their supply chain in a consistent and efficient manner based on high-quality and neutral data (see figure 1).
This means that National Risk Assessments can be used as a sophisticated CSR-tool (Corporate Social Responsibility) that makes implementation of ambitious CSR-policies on the ground feasible at a very high level of thoroughness that effectively minimises all risk of irresponsible sourcing of these commodities. Therefore, National Risk Assessments have the potential to become a new kind of super-tool, which can prove highly valuable to companies working with these commodities. 
Additionally, using this type of targeted risk-based approach in CSR efforts can potentially make it more affordable and easier for companies seeking to minimise business, environmental and social risks in their supply chains where certified sources are limited.
A number of Danish companies that source palm oil, soy and beef products from developing countries have partnered with the project's case study programme and engaged in testing out these potentials. One of these companies is meat trader CARMO Food.
CARMO Food to use risk assessments to pursue responsible sourcing of beef
The Danish meat trader CARMO Food decided to adopt an ambitious responsible sourcing strategy for beef coming out of Brazil and Argentina. Jeppe Jakobsen, their Sales Lead said, "…in a world where the environmental impact of food production in particular beef is great, we as players would like to contribute to providing solutions and products that promote more sustainable sales. However, it can be difficult to identify the best solutions as it requires a lot of background materials further back in the supply chain than just to the slaughterhouses, who we have daily contact with. But here NEPCon's approach and network has been a great help to identify the issues, we need to work with".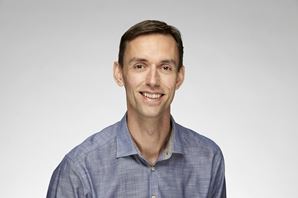 CARMO Food is working to map out their beef supply chains, all the way back to the farms in South America. The challenge they, and lots of other companies, face is that their suppliers and sub-suppliers are not always willing to change their behaviour. Jeppe Jakobsen said, "One of the big challenges for us when working with responsibility and CSR is also the diversity that is between the individual slaughterhouses and products. For example, there are big differences in how cattle are raised in various parts of the world. Therefore, we can not necessarily use the same approach with our suppliers from New Zealand as from Brazil. Moreover, our sales primarily in Scandinavia, does not take up much of the global production. Therefore, we can also face challenges in getting our suppliers to change their ways because other and larger buyers do not always have the same requirements as us." 
Being a smaller player on the international market does not hold back CARMO Food as Jeppe Jakobsen explains that responsible sub-suppliers are out there, "Fortunately, there is already a large part of our trade partners who are well advanced in sustainability. And then we can give these priority as opposed to those suppliers, who have not yet taken a position or wants to change to a more sustainable production".
---
A recent report from the Union of Concerned Scientists shows that there are no industry leaders when it comes to minimising the risk of deforestation connected to beef production. This is a big problem as visible in a recent Forest Trend report on companies' commitments to reducing deforestation that discloses how much negative impact cattle farming can have on tropical deforestation – much higher than soy, palm oil and even timber – and how few companies have made any commitments to do anything about it. See figure 3.

FIGURE 3: Number of Companies with and without Commitments  by Commodity http://forest-trends.org/releases/p/supply_change_2016
---
The cattle industry is in urgent lack of companies like CARMO Food with high ambitions for their responsible sourcing strategies (see Figure 3). In the project's case study programme, CARMO Food will get expert support in strengthening their social and environmental policies, mapping their supply chain, assessing their risks and having a detailed action plan developed to minimise those risks and monitor implementation.
This process is a big undertaking and CARMO Food has started at the beginning of this road by engaging in the case study programme, and using a risk-based approach to supply chain management. As one of the very first steps, CARMO Food has created a brand new sourcing policy, where they strive at achieving the following goals:
Support responsible business practices.
Respect the rights of all workers.
Uphold the rights of indigenous and traditional communities.
Protect the environment.
Prevent deforestation.
Avoid using genetically modified feed or animals.
Secure animal health and welfare.
Eliminating any potential products linked to deforestation from our supply chain.
Reducing water use and consumption in corporation with our supplier.
Focusing on energy efficiency in corporation with our suppliers.
Increasing the numbers of organic and sustainable products in our range.
Partner up with the case study programme
In January 2017 the case study programme will open up again for Danish companies interested in assessing their supply chains for social and environmental risks connected to sourcing palm oil, soy and beef products from Brazil, Argentina, Bolivia, China, Ghana, Indonesia and Malaysia.
In the programme, companies will get support from NEPCon experts in assessing risks in their supply chains. They will be provided with relevant tools and have a detailed action plan developed with specific steps towards mitigating risks and moving towards documentable low risk supply. This is a unique opportunity to strengthen a company's CSR profile and obtain a solid responsible sourcing strategy.
Partnership in the case study programme is free of charge.
The case study programme typically runs for four to six months depending on the company. The programme and work plan will be tailored to meet the unique supply chain situation of each company.
All sensitive supply chain information remains in the company's control with a non-disclosure agreement.
Learn more about the programme here or contact Dorte Ballermann on drb@nepcon.org.
[1] The CSR principles and criteria identified for responsible sourcing of forest-based commodities are drawn from international CSR frameworks including UN Global Compact, UN Guiding Principles on Business and Human Rights, OECD Guidelines for Multinational Enterprises, ISO 26000 Guidance on Social Responsibility and leading initiatives and certification systems for sustainable palm oil, soy and cattle products.