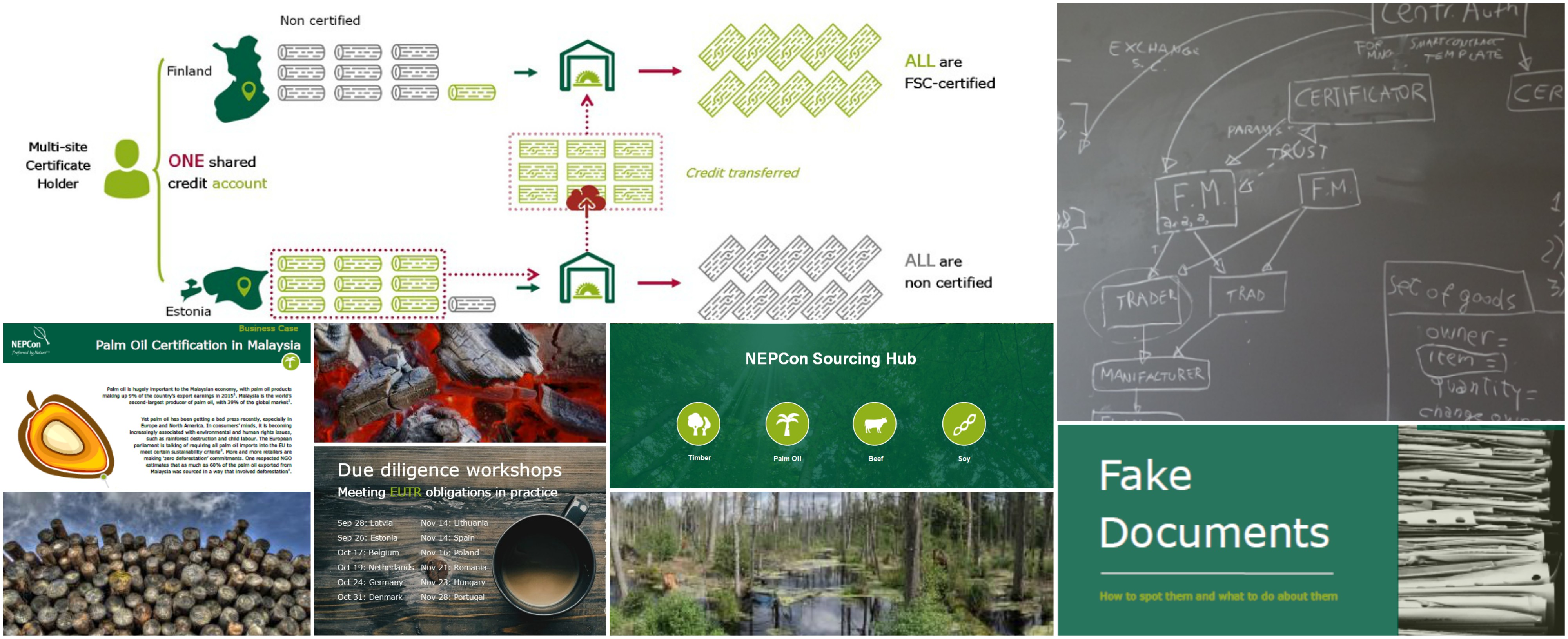 New FSC standards, frauds in certified products and blockchain technology, launch of NEPCon Sourcing Hub, new tools to support the timber sector… here are the most-read articles of the year in NEPCon's newsroom.  
 

10. FSC Transaction Verification – Catching charcoal cheaters…

Five Ukrainian organisations have lost their FSCTM Chain of Custody certificates after FSC started using volume control for charcoal supply chains earlier this year. This outcome follows an investigation of the volume control system – undertaken with close cooperation among FSC certificate holders, NEPCon and FSC representatives – revealing that non-certified charcoal had been sold as FSC-certified.

 
 
 
 

9. Free training available on new risk assessments and tools for EU Timber Regulation due diligence

Meeting the due diligence legality requirements of the EU Timber Regulation (EUTR) can be a challenge. But there's help at hand as we run some free training courses in autumn 2017. The training is part of a project we're running that's funded by the LIFE Programme of the European Union and the UK's Department for International Development.

 
 
 
 

8. FSC Controlled Wood requirements updated to better comply with the EU Timber Regulation

FSC changed its requirements on the use of risk assessments for illegally harvested wood for sourcing Controlled Wood on 30 June 2017. This article describes what has changed and why.

 
 
 
 

7. Do we need Controlled Wood?

At FSC General Assembly 2017, the session on Controlled Wood Strategy provided a useful illustration of the variation in perspectives about Controlled Wood, including it potentially being phased out of the FSC system. Another focus was the anticipated path to the FSC workshop planned for June 2018 as well as finalisation of FSC's Controlled Wood Strategy.

 
 
 
 

6. The business case for getting sustainability certification for timber or palm oil: a case study from Malaysia

Getting certified costs money. It's worth doing from an environmental point of view, but is it worth doing from a purely business point of view? We tried to answer this question by conducting in-depth interviews with 17 Malaysian companies from the timber and pulp and paper sectors and 10 Malaysian companies that are members of the Roundtable on Sustainable Palm Oil (RSPO) and trade RSPO-certified products.

 
 
 
 

5. EU and Poland arm-wrestling about Białowieża – Europe's largest primeval forest

The never-ending conflict around the Białowieża forest has escalated to the level that it may challenge the certification of all state forests in Poland. It involves an injunction issued by the European Court of Justice, eurosceptic Polish authorities ignoring the injunction and very upset environmental groups trying to block the logging.

 
 
 
 

4. Fake documents: how to spot them and what to do about them

Your supplier has given you some documents that appear to show that the timber they're selling to you was legally harvested. But how do you know if the documents are genuine or not? This article provides some hints and tips on how to spot if any of the documents in your Due Diligence System are fakes.

 
 
 
 

3. New timber risk assessments help companies source legal wood

In August 2017, we released the NEPCon Sourcing Hub, the biggest and most detailed collection of forest-related risk assessments that have ever been published.

 
 
 
 

2. Fraud in certified products: is blockchain the answer?

All products that are certified as being environmentally or socially responsible have to rely on a Chain of Custody system to keep track of products as they move along the supply chain. And all such systems are potentially open to fraud. Can blockchain, the much-talked about code behind Bitcoin, help keep these systems secure?

 
 
 
 

1. New FSC CoC Standard – Do you know the changes?

FSC published a revised version of its Chain of Custody (CoC) Certification Standard (FSC-STD-40-004 V3-0), after more than two years of development and several public consultations. This article provides an overview of the main changes that Certificate Holders should be aware of.