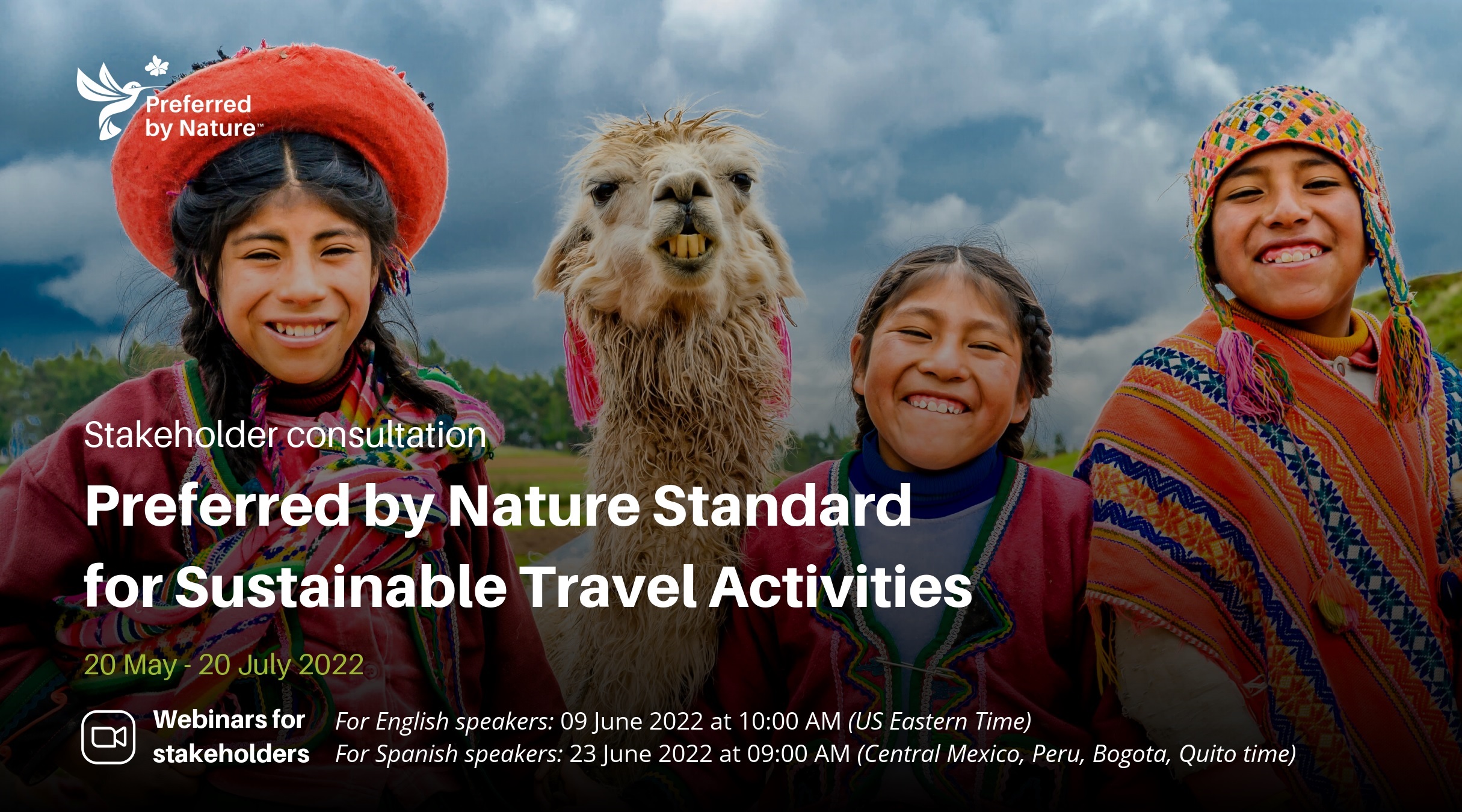 Sustainability is a paramount hallmark for the travel sector. Tourism businesses need a good set of guiding principles that can help provide conscious travellers with confidence. After being used to evaluate tourism activities for the past 10 years, the tourism standard is now updated by Preferred by Nature and under an open public consultation until 20 July.
The new Standard for Sustainable Travel Activities is built on a tourism standard that has been recognised by the Global Sustainable Tourism Council (GSTC). The Standard supports tourism organisations to manage their operation system in a responsible way and helps them achieve the commitments to protect and conserve biodiversity as well as cultural heritage and improve local communities' welfare.
The Standard is divided into four principles, designed to assess any tourism organisation's performance regarding their business, sociocultural, environmental and climate practices. This structure is adapted to Preferred by Nature Sustainability Framework, which is our definition of sustainability, setting the bar for sustainable activities across sectors and used as the basis to develop sector-specific adapted standards for companies seriously committed to sustainable business practices.
"We are seeing the travel mindset changing, particularly post-pandemic. More than ever, sustainable travel is on the rise. Travellers are becoming more conscious with their choices when it comes to tourism services. With this update, we are introducing a new principle focusing on climate impacts to raise the bar on sustainability within the travel sector," said Saúl Blanco Sosa, Director of the Sustainable Travel Programme at Preferred by Nature.
Preferred by Nature embraces a transparent and multi-stakeholder-based approach in maintaining the highest level of stakeholder consensus to ensure high quality framework and procedure developments. Therefore, we welcome your constructive comments, technical review, recommendations and edits.
>> Click on the links to download the full content of the Preferred by Nature Standard for Sustainable Travel Activities:
System Requirements for Sustainable Tourism Certification (V0.9)

 (ENG)
 
Share your feedback!
You can submit your comments on the Standard via email to Saúl Blanco Sosa at sblanco@preferredbynature.org.
Consultation period: 20 May – 20 July 2022
Join our webinar to learn more
We will be presenting the latest version of the Standard and answering questions directly during our webinar taking place on these dates:
For English speakers: 09 June 2022 at 10:00 AM (US Eastern Time) – see the recording here. 
For Spanish speakers: 23 June 2022 at 09:00 AM (Central Mexico, Peru, Bogota, Quito time) – see the recording here. 
If you are keen on learning more about our Sustainable Travel Programme, click here.
Preferred by Nature strives to follow, as far as applicable, ISEAL requirements for standard development in this work and will be following the Preferred by Nature Procedure for the Development and Revision of Standards.
ISEAL (International Social and Environmental Labelling Alliance) is a global association for social and environmental certification and labelling frameworks. ISEAL works with established and emerging voluntary systems, developing guidance to strengthen their effectiveness and impact.