Hernesaaren Löyly has become Finland's first building project that obtains FSC Project Certification. The story behind this successful public sauna gives project owners and contractors a better understanding of this lesser-known FSC certification type. 
Hernesaaren Löyly has garnered a lot of attention for its sustainability goals. The story has reached beyond European borders, as far as the New York Times and the Hollywood Reporter.  
The co-owners, actor Jasper Pääkkönen and Member of the Finnish Green Party Antero Vartia, have nurtured and fulfilled a great ambition to create a public sauna with sustainability goals embedded at all levels of the project. 

A green sauna dream in Finland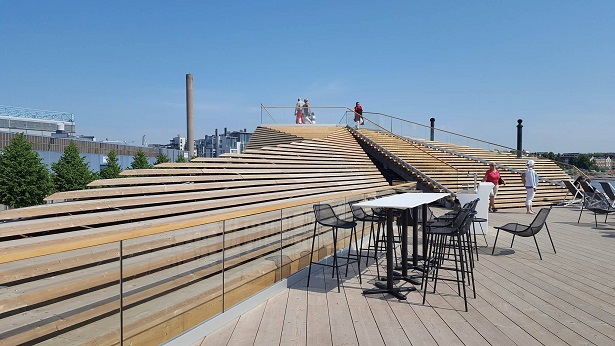 Environmental considerations are central to the project, with environmentally sensitive elements and approaches incorporated throughout the sauna complex: from the FSC wood materials used for various parts of the construction, to the choice of sustainable energy sources supplying the building – and the food served in the adjoining restaurant. 
WWF advised the restaurant on a responsible menu offering locally produced ingredients and sustainably harvested fish.
FSC Finland has advised about the wood material for the sauna, and has helped to insure that the exterior cladding (façade), terrace decking and indoor decorative wall inside the restaurant are all covered by a FSC Project Certification
Löyly can take pride in being the first FSC-certified project in Finland. It is also the first FSC project certificate issued by NEPCon.    

Flexible certification scope, high standards
FSC Project Certification can be applied to a variety of single construction projects of any size, from a TV set to a large-scale housing complex. 
Löyly's project certificate, for example, is partial, covering certain wood components used for the building. FSC-certified wood is used for latticework, external surfaces, and terrace decking; whilst the interior walls are made of material discarded following birch plywood production. All the wooden elements in the building are treated with a Nordic eco-labelled product. 
Project owners can also seek full Project Certification, in which all wood-based materials used in construction are either FSC-certified or post-consumer reclaimed materials. 
Lauri llola, Project Manager from FSC Finland added, "Project Certification is a relatively new and unknown method for the construction sector to demonstrate responsibility in a built environment. And that is really a shame, because FSC Project Certification provides means for the owners to demonstrate that they only want to source wood which is from responsible sources with the highest requirements set for forestry, which is a much appreciated value of new building projects to many stakeholders".  

Easier options for project owners
Large construction projects often engage several contractors and sub-contractors. Whilst the number of FSC CoC-certified contractors in the market is still limited, FSC Project Certification has a solution for this. 
The FSC Project Certification Standard requires the project manager, appointed by the project owners, to take responsibility for auditing non-certified contractors and sub-contractors in accordance with FSC requirements. This means that the project manager will check – at sensitive points in the production process – as to the risks of mixing with non-certified material, as well as making sure that all other requirements relating to training, record-keeping, etc. are met by the non-certified contractors and sub-contractors. In this way, the project owner has a much greater choice of contractors to deliver FSC-certified projects. 

Lesser-known FSC certification scheme on the rise
Despite its applicability to various project sizes, FSC Project Certification is not yet common among building projects. A major reason for this is simply a lack of knowledge about the existence of the certification among both project owners and contractors.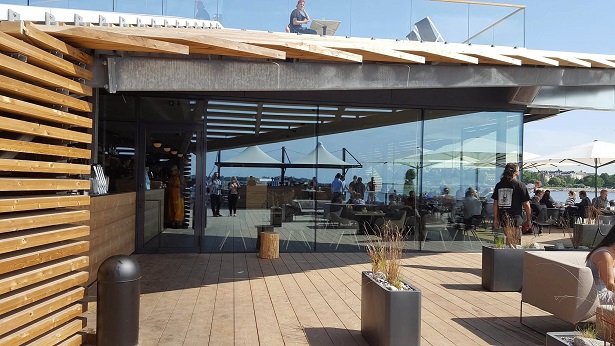 "We need more pioneer projects like this in the construction sector to lead the way for project owners and contractors", said Mr Ilola. 
Using responsibly sourced timber for building projects is not a novelty. The construction industry is increasingly aware of the value of using timber derived from well-managed resources in modern and eco-friendly building design. 
Julie Møhl Laursen, Lead Auditor at NEPCon, explained that Löyly's Project Certification should spark interest in FSC Project Certification amongst other project owners, "Hopefully, Löyly will be the leading example for a greater number of project owners out there, who can see the idea in making their visions come to life in FSC material from responsible sources". 
"In the future, we hope to hear from project owners who have been inspired by this project", she added. 
Click here to learn more about FSC Project Certification.
Engage in FSC Project Certification