At the time being, the timber industry in the Philippines did not hold the necessary capacity needed to be able to implement, oversee and audit the wood tracking Chain of Custody systems on the level required by the EU under the FLEGT process. 
Building this capacity enabled the timber companies in the Philippines to reach the necessary level of compliance for exporting and selling timber and timber related products to the European market. 
The objective of the project
Together with IDC ELDF (lead partner on the project), Preferred by Nature (formerly known as NEPCon) supported the development of Filipino timber companies capacity, enabling them to handle timber with environmental and legality related certifications, such as FSC and PEFC. This was done through the implementation of Chain of Custody (CoC) systems. The strengthened capacity gave the companies the ability to offer the level of information needed by EU importers, enabling them to meet EUTR Due Diligence requirements.
The project objective was "To develop local capacity and expertise to assist Chain of Custody systems implementation and auditing, in support of market compliance of the export oriented downstream segment of the timber industry." 
In other words, this involved aiding foreign importers with due diligence, increasing awareness of EUTR for Filipino suppliers and manufactures of wood products, increasing export market access, influencing progressive government policies and legislation, and reducing illegal logging activities.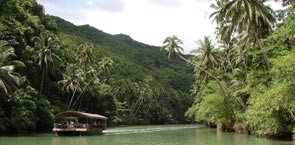 Project approach and outcome
Training was an essential part of building and developing the CoC and auditing capacity in the Filipino timber companies. 
Initially the task was to gather and inform relevant stakeholders, both private sector industry and public sector organisation (FMB), about the FLEGT VPA process. 
The next steps were to educate CoC Trainer Trainees. These individuals were trained to instruct timber companies on how to implement credible CoC systems. The second step was to train local Filipinos to be CoC Trainee Auditors, so they could conduct the compliance audits of the companies implementing CoC systems. 
Concurrently the project was working with a group of timber operators, representing approximately 15 Filipino companies. These Timber Industry Member CoC Implementers received intensive training on the "generic" aspects of both CoC and Due Diligence Systems. This enabled them to fully implement a credible CoC system and thus demonstrate legality as required by their EU buyers. 
A number of actual audits were completed, which provided the CoC Trainee Auditors with experience and training in auditing. At the same time, it gave the Timber Industry Member CoC Implementers the opportunity to choose which CoC standards to be audited against (for example, FSC or PEFC), depending on which one they believe or fits their business best and is most likely to give them access to the EU market. 
Finally, the above mentioned activities, along with monitoring and evaluation of the project, resulted in the development of a visible framework that was used to replicate the project in the downstream segment in the Philippines.