On behalf of FSC, we conducted national assessments of the risk of sourcing timber from areas of illegal harvesting, high conservation values, conversion or the use of genetically modified organisms (GMOs).  
Project objective
The project aimed at developing risk assessments covering the risk of illegal harvesting, sourcing from areas of high conservation value or conversion and usage of GMO trees for 53 timber producing countries. 
This work related into the on-going process of developing centralised FSC Controlled Wood National Risk Assessments (NRAs). FSC-endorsed NRAs are mandatory to follow for FSC certified companies sourcing Controlled Wood for their FSC MIX products.
This project thus covered four of the five Controlled Wood risk categories:
Category 1 - Illegally Harvested Wood
Category 3 - Wood harvested from forest in which high conservation values are threatened by management activities
Category 4 - Wood harvested from areas being converted from forests and other wooded ecosystems to plantations or non-forest uses
Category 5 - use of Wood from forests in which genetically modified trees are planted.  
Project Approach
The methodology followed the FSC Standard for Company Evaluation of FSC Controlled Wood (FSC-STD-40-005).
Our risk assessments were developed in collaboration with local forest legality experts and uses an assessment methodology jointly developed by FSC and Preferred by Nature (formerly known as NEPCon).  
Each country assessment was carried out against criteria determined by FSC and included the following steps: 
1. Research. This included development of lists of applicable legislation and identification of relevant authorities.
2. Risk identification and evaluation. Potential risks were identified and evaluated, and each risk is described.
3. Risk specification. Each risk was classified as low risk or specified risk.
4. Risk measures and verifiers. For each specified risk, the risk assessment included a set of measures that could serve to mitigate the specific risk, plus verifiers that could be used to verify the effectiveness of the measures.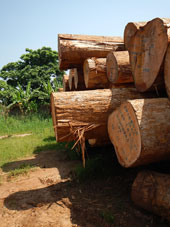 Feel free to contact us with any inquiries related to this project.