Access to forest management certification and its benefits is more challenging for small forest holders who often face cost and procedural obstacles to certification. 
Project objective
The project was designed to explore a new concept where forest managers use certified forestry contractors, reducing the costs and work load for forest managers seeking certification.  
Ultimately, the goal is to improve the social and environmental conditions in the forest by facilitating greater access to FSC certification for smallholders. The objectives of the project were to:
Compile and analyse current national certification standards to establish two check-lists of tasks, one for forestry contractors and one fro landowners
Develop international guidelines for forestry contractor certification that may lead to independent certification of contractors
Develop a certification toolkit for smallholders, group managers and forest service enterprises
Implement pilot tests of the check-lists for smallholders and forestry contractors
Conduct training and awareness raising workshops in four countries on forestry contractor certification
Present project results in an EU-wide training workshop with participation of key forestry contractors and private forest owner representative.
Project approach
At the heart of this project was the development of guidelines and tools for sharing certification tasks between forest owners and contractors. This was done following a three-step process.
Essentially, a certified forestry contractor would assume responsibility for demonstrating compliance with the forest certification standards related to forestry operations, with which forest owners frequently have difficulty proving compliance.
This will simplify the certification process for forest owners by reducing the total number of certification requirements with which they must actively prove compliance. 
Although the landowners are ultimately responsible for ensuring forestry operations on their land meet all standards, contractors are important to fulfill the requirements for certification. Learn more about how this works.
Certification will provide contractors an independent quality assurance for their customers, and potentially increase demand for their services.
How it works
The present situation: contractor works with certified forest owners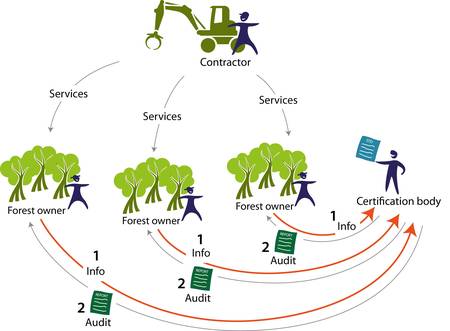 Contractors work for a number of certified forest owners. The certification body is the service provider for the forest owners and collects information from individual forest owners during audit.
Much of this information applies to work done by contractors. It is likely that information about a contractor's work is gathered several times to issue certificates for all forest owners.
Improved situation: certified contractor provides services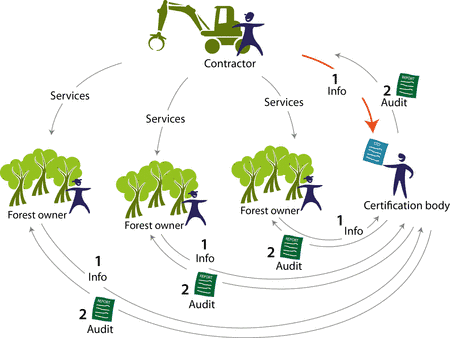 Contractors document that they fulfil the requirements of certification standards relevant to them. The certification body can use information collected from the contractor to audit the forest owners who use that contractor.
This more efficient way of gathering information results in lower auditing costs for the forest owner. And because the certified contractor ensures that a number of key certification requirements are met, less effort is required of the forest owner.
A certified contractor benefits by documenting relevant performance in certified forests, and is likely to be preferred by certified forest owners. Additionally, certification ensures good business practices implemented and made visible to all of the contractor's clients, including those who are not certified.
 Project results
Concluded in May 2012, this three-year project has been successfully rolled out and tested across five European countries: Bulgaria, Denmark, Portugal, Spain and Sweden. 
Partners and funders
Partners
Preferred by Nature
Preferred by Nature is a non-profit organisation working to encourage and support sustainable use of natural resources worldwide. 
Forest Stewardship Council (FSC)
The FSC is an independent, non-governmental, not-for-profit organisation established to promote the responsible management of the world's forests.  
The European Network of Forest Entrepreneurs (ENFE)
ENFE is the European umbrella organization of forestry contractors. Members are the National Contractors Associations. ENFE represents the entrepreneurial sector to policy makers in individual countries and on European level.  
Funding
This project is co-funded by the European Union within the CIP Eco-Innovation Initiative of the Competitiveness and Innovation Framework Programme (CIP).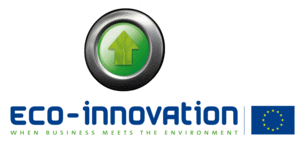 Matched funding comes from Preferred by Nature, ENFE, and FSC.Co-funding from the Danish Forest and Nature Agency (Danish Government) and Fundación Biodiversidad in Spain has been obtained to support the activities of the project in the respective pilot countries.