Project objective
The aim of the project is to develop a free online tool for responsible timber sourcing in general and for buyers sourcing FSC Controlled Wood in particular.  
Project approach
The Global Forest Registry uses the definition of unacceptable sources adopted by the FSC Controlled Wood system.
The initial concept was to develop an interactive, online world map with information about the risk of sourcing unacceptable timber. The map should form a user-friendly tool to avoid wood from controversial sources, such as illegal logging or forestry that violates indigenous peoples' rights. 
Based on available sources and stakeholder consultations, the project team collected and compiled available information from over 150 countries of the world.  
The development involved extensive stakeholder participation. Stakeholders around the world shared invaluable information underpinning the value and credibility of the Registry.
Results and impact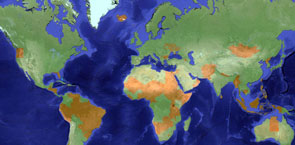 The Global Forest Registry has proven a valuable tool for FSC certificate holders sourcing Controlled Wood and for other buyers wishing to avoid unacceptable timber. 
The information provided by the Registry is continuously expanded, including at sub-national level. 
Take a world tour of the risk of sourcing unacceptable timber at  www.globalforestregistry.org