Nature underwrites human well-being. That is the basic tenet for our work to foster change and advance sustainability through partnerships.
For nearly two decades, we have developed and implemented projects together with our donors and partners.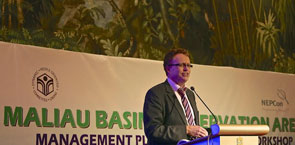 Our projects often focus on nature conservation or initiatives that facilitate sustainable natural resources utilisation and related trade.
In a world of growing human population, with disparity and conflict on the rise, the list of aid-worthy causes is growing and effective use of donors' resources is of paramount importance. We offer cutting edge knowledge in designing and delivering high-quality projects with a strong potential for expansion or replication.
We seek to build meaningful partnerships where we employ our strengths to foster a better future. Our projects are supported by private foundations, corporations, governments and multilateral agencies from around the world.
Donate to our projects
We are constantly developing new projects for which we are seeking support. Each project is carefully designed together with our partners, with the aim to achieve maximum impact.