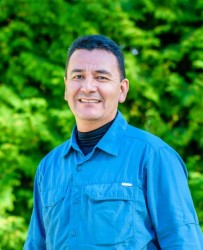 Freddy Peña
Regional Director, Latin America
Soy Commodity Lead
fpena@preferredbynature.org
+(591) 3 3325042
+(591) 71655507
freddy_pena
Freddy oversees all activities and tasks and leads our Assurance work in South America. He also provides support to other teams in identifying new market opportunities for our services.
Working as an FSC auditor, I learned that certification is a powerful tool to motivate and provoke positive changes for protecting natural resources and people's lives. It is motivating to see some certified companies making changes in the way of conducting business as they strive to build environmental and social capital. My personal and professional goal is to continue working and contributing so that this change is growing, and I think that Preferred by Nature offers me this opportunity.
He is responsible for developing, implementing and managing our marketing strategy for all services in this region. He also supervises all administrative and legal activities in Preferred by Nature's Bolivia and Peru legal entities. Freddy is Preferred by Nature's representative in South America as he is tasked with broadening our exposure to new markets.
Freddy is an experienced forestry engineer specialising in environmental management. He has 23 years of experience in forest management certification. He started his career as a coordinator for a local initiative in Bolivia, focusing on FSC certification from 1995 to 1997. Thereafter, he worked at Rainforest Alliance until October 2018.
Freddy is a lead FSC auditor with ISO 14001 accreditation. He has extensive international exposure having worked as a lead auditor in Argentina, Bolivia, Ecuador, Colombia, Chile, Peru and Mexico. He is also a leading FSC Forest Management trainer.
Freddy acts as the Soy Commodity Lead for Preferred by Nature, representing the organisation in all aspects related to the commodity. His role involves advocating and facilitating the widespread adoption of sustainable practices in soy production landscapes and supply chains. 
With extensive experience in the soy sector, Freddy possesses invaluable expertise and knowledge that provide deep insights into market trends and challenges. He takes the lead in driving our teams' efforts to make positive impacts, shape market practices and establish partnerships aimed at transforming the natural rubber sector at various levels.
Freddy joined Preferred by Nature in 2018.
Skills at a glance
FSC Forest Management auditing

FSC CoC technical support/expertise

Widely knowledgeable in the Rainforest Alliance Sustainable Agriculture Standard and certification schemes

Widely knowledgeable in Sustainable Tourism certification scheme

Experience in managing complaints and disputes related to certification schemes

Countries worked in: Argentina, Chile, Bolivia, Brazil, Perú, Colombia, Ecuador, México, Uruguay. 

Languages spoken: Spanish and English