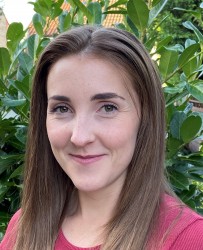 Laura Sceal
lsceal@preferredbynature.org
+44 (0)7309770966
Laura is involved in planning and conducting Chain of Custody audits in the UK.
Creating sustainable supply chains are fundamental to ensuring the protection of the environment and longevity of responsible sources. I am excited to join Preferred by Nature to contribute to ensuring sustainable supply chains continue to thrive and ensuring protection of valuable environmental resources.
Laura has experience in certification schemes, both wood fuel quality and chain of custody. She started her career testing wood fuel quality for a not-for-profit organisation. In that role, she ensured companies producing wood fuel complied with applicable governmental and quality standards.
Subsequently, she moved to Chain of Custody and Forest certification and worked for a UK-based certification scheme. Her responsibilities included ensuring UK woodlands and forest are actively and sustainably managed, and the timber in the supply chains are from responsibly managed forests.
Laura joined Preferred by Nature in 2019.
Skills at a glance
Experience in Chain of Custody certification and wood fuel quality certification schemes

BSc in Geography

Language spoken: English