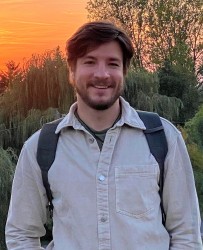 László Szoboszlai
Senior Carbon Footprint Specialist
lszoboszlai@preferredbynature.org
Laszlo.szob
László is a member of the Climate Programme team working as a Carbon Footprint Specialist where he contributes to the development and maintenance of Preferred by Nature's climate program services with a focus on the Carbon Footprint Management (CFM) programme. 
In order to meet our climate goals, we must work together towards a common goal that impacts us all. Working in a non-profit organisation dedicated to supporting people's ambitions in a transparent and credible way is an important contribution to this cause.
László's main responsibilities include conducting and reviewing CFM audits, supporting the development of the CFM Standard, training auditors and clients, and working together with clients and stakeholders to help them reach their climate goals.
Skills at a glance
László holds a M.Sc. in Environmental Management and Policy from the International Institute for Industrial Environmental Economics (IIIEE) at Lund University in Sweden. He completed a BES in Geography and Environmental Management from the University of Waterloo in Canada and an Advanced Diploma in Sustainable Energy and Building Technology from Humber College in Canada.
László has a background in the energy and environmental fields having worked both in the private and public sectors. Prior to joining Preferred by Nature, László worked in consulting projects with Volvo Penta and Sydvatten to map and target the reduction of their Scope 3 carbon emissions. He has also worked in the buildings industry working on LEED certifications, energy efficiency projects, and carbon accounting for large international hotel brands. 
Languages Spoken: English, Hungarian
Countries Worked In: Canada, Switzerland, Indonesia and Sweden.