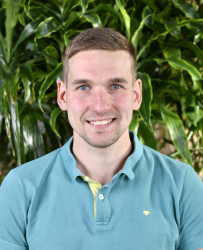 Arvi Alamaa
aalamaa@preferredbynature.org
+372 58828988
arvi_alamaa
Arvi's role as the Head of Technology is to lead Preferred by Nature technological developments and innovation across the organisation to support the core activities and strategy. 
I enjoy working with mission-driven people and implement new technological solutions which would make the way we work and live more effective and have a positive impact on social, economic and environmental aspects of sustainability. Preferred by Nature enables me to do all of the above.
As Head of Technology, Arvi acts as the manager of the technical team, striving towards good collaboration and functioning of the team as well as interactions and communication with other relevant Preferred by Nature's divisions and units.
He is responsible for managing, coordinating and prioritising IT and technology related innovation and development projects and activities as well as managing the development and maintenance of the technical systems, databases, technological platforms, IT equipment and other aspects related to IT and use of technology.
Through all of this, Arvi also supports the implementation of strategic objectives in Preferred by Nature's strategy, which are related to technology and technical innovation.
Skills at a glance
Diploma of Professional Higher Education in IT Systems Administration
MSc Business Information Technology
Information systems development
Technical team leading
Technological project management