Learn to read the mind of your FSC auditor - or become one yourself! Our intensive FSC Expert trainings will equip you with the mindset and knowledge of an FSC auditor.
Performed by the top experts of Preferred by Nature and approved by ASI as meeting the latest requirements of FSC-STD-20-001 V4-0 and FSC-PRO-20-004 V1-2, our high-speed, intensive FSC Expert courses guarantee to bring your insight to FSC certification up to a new level, whatever it was before. More than 250 participants from 25 countries have so far completed these comprehensive training courses.
Regardless of your professional background, this expert training is for you if you take a serious interest in FSC certification. The FSC training consists of two separate courses, covering Forest Management (FM) and Chain of Custody (CoC) certification. Depending on your needs, you can take either one of these courses or both.
Our FSC Expert trainings typically bring together people with a variety of backgrounds, which lends a unique flavour to these courses. They attract certified companies, public sector organisations, researchers, NGOs, consultants – and, of course, anyone aspiring to become an FSC auditor.
What you will learn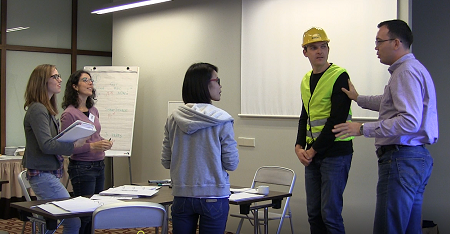 The FSC Expert trainings guide you through practically everything an FSC auditor needs to know.
The Forest Management course consists of an online module followed by five-day intensive classroom training. It covers all the essential topics related to FSC system, trademarks, ISO 19011, FM standards and auditing.
The Chain of Custody course consists of an online module followed by three-day intensive classroom training covering general FSC topics, trademarks, the standards and systems for Chain of Custody and Controlled Wood certification, and auditing to ISO 19011 principles.
Within both courses, you will get important insight and updates regarding the FSC system and gain comprehensive knowledge of auditing techniques, certification requirements and report writing. Group exercises are used extensively, promoting teamwork and helping you to build your skills and absorb all the information.
Your trainers are among the world's most experienced FSC Auditors, providing unique insight and expertise. The training includes a balanced mix of presentations and classroom exercises, and you will have plenty of opportunity to both learn and practice important auditor skills.
Earn an FSC Auditor Training Certificate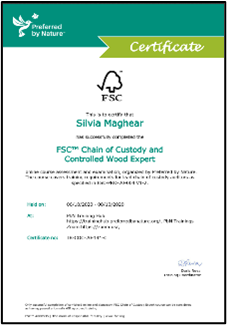 At the end of each course, you will take an exam.
If you pass the exam, you will receive an FSC Auditor Training Certificate for the particular FM or CoC certification scheme. Those who do not pass receive a Certificate of Attendance.
Note: In addition to passing the course, you need to gain relevant experience and to participate in FSC audits before you can be formally approved as an FSC auditor. Please contact your FSC-accredited Certification Body for more information. Preferred by Nature does not offer practical on-the-job training (except for our own staff as part of the process of their becoming qualified auditors).
Join a course