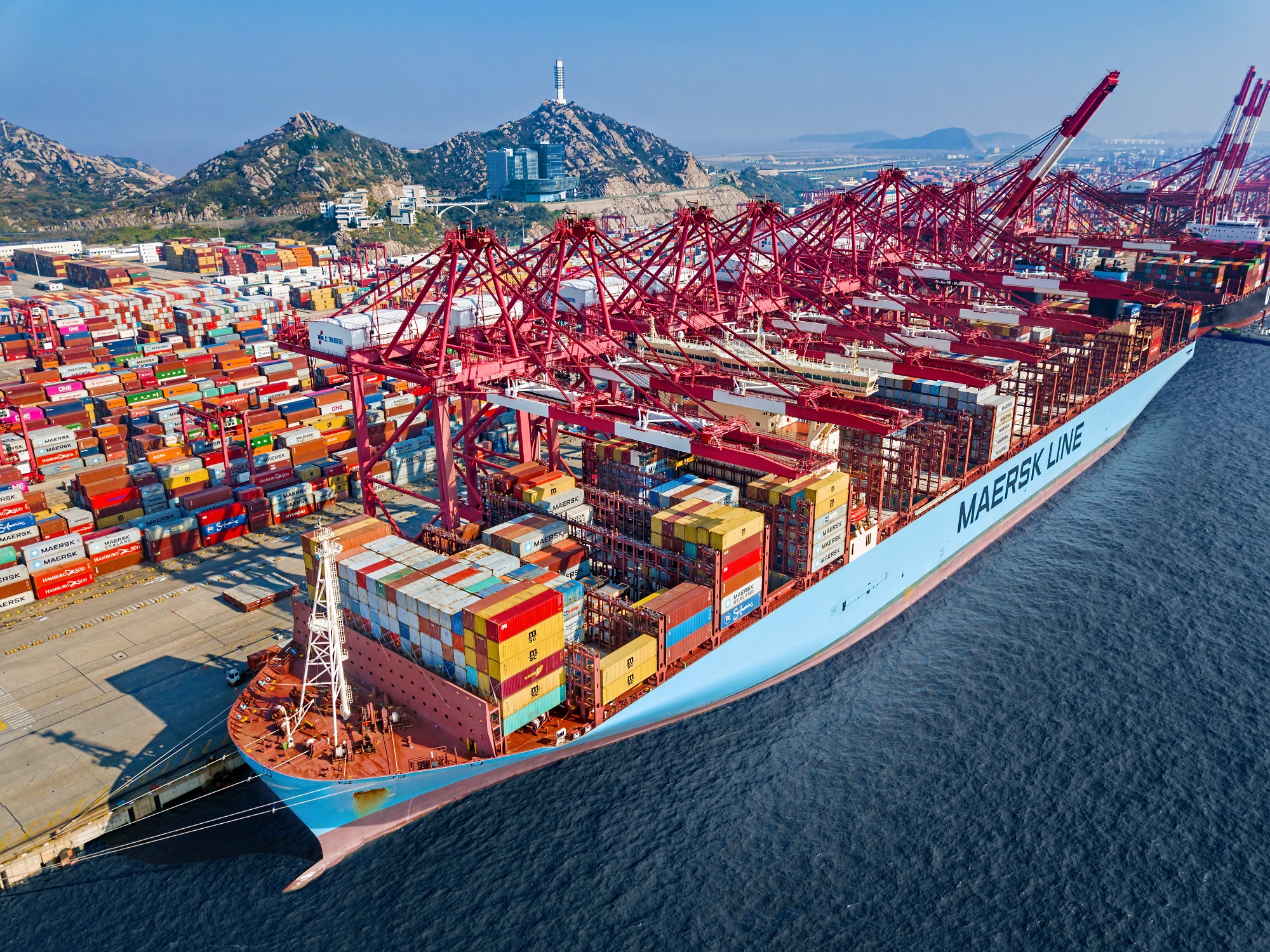 The global shipping and logistics company has an ambitious target to reach CO2 neutrality by 2050. We need to act now, says Ingrid Marie Vincent Andersen, Head of Decarbonisation Targets & Life Cycle Assessment, who recently teamed up with Preferred by Nature in search for sustainable biofuel feedstocks.
700 ships, 10 million tonnes of fossil fuel and 32 million tonnes of CO2. Decarbonizing one of the world's biggest shipping companies is no simple task. It is nevertheless what Maersk is aiming to do.
As Head of Decarbonisation Targets & LCA, Ingrid Marie Vincent Andersen has her work cut out for her:
"Although the energy efficiency of our fleet has been improved by more than 45 percent since 2008 in terms of CO2 emissions per transported container, improved energy efficiency is not going to get us to net zero. We need other solutions like new fuels. 2050 may be a long way away, but we do not believe that it is appropriate to sit back and wait for a solution to magically appear. We need to act now. Our main task is to turn long term ambition into short term action," says Ingrid Marie Vincent Andersen.
 
"We have to analyse risks closely"
From her desk at the Maersk HQ overlooking Copenhagen Harbour, Ingrid Marie Vincent Andersen explains how she and her team are searching for different marine fuel solutions to the huge challenge of decarbonising the fleet:
"We believe methanol is our medium-term solution and in August we ordered eight methanol-fuelled container vessels to be delivered from 2024. However, our only short-term solution to cut emissions from our vessels is to use biodiesel. Bio-based diesel fuels can burn in existing ship engines and there is a wide range of biodiesels based on various feedstocks available. The challenge is to figure out which feedstocks are sustainable and how much biodiesel we can source in the market without creating substitution effects elsewhere," said Ingrid Marie Vincent Andersen.
The global biofuel market has been growing steadily over the past decade and is expected to reach 154 billion USD by 2024. However, feedstocks that can be used for biodiesel are not always produced or used sustainably with palm oil being perhaps the most controversial example. It is crucial to Maersk that they only use biofuels from sustainable feedstock. As an example, Maersk currently is using biodiesel based on used cooking oil.  
"It is important to us that our sourcing of biofuels does not result in land conversion and deforestation. We have to analyse the risks closely, and we must ensure that the feedstocks we are looking at, have no better use for example as food," said Ingrid Marie Vincent Andersen.
 
Waste feedstocks
To identify potential sustainability risks, Maersk has been working closely with Preferred by Nature, using the Preferred by Nature Sustainability Framework. The framework enables both small and large businesses to take a wider and more thorough approach to risk assessments than individual certification standards are able to do. The analysis included a number of waste feedstocks and focused on a broad range of risks.
"We believe it is possible to source waste feedstocks sustainably, but we have to carry out a thorough risk analysis and be confident there are no risks involved such as mixing with other types of waste, child labour, slavery, or corruption," said Ingrid Marie Vincent Andersen.
"It is a very complex task. The risks related to each feedstock can be very dependent on the geographic location it is collected from. One feedstock may be sustainable if it is from Europe, but when sourced from other regions such as South America for instance, there could be a risk of the certification not having sufficient coverage, that control and audit systems are not properly in place, that the waste is in fact not waste, and ultimately that our sourcing will indirectly result in e.g. deforestation," said Ingrid Marie Vincent Andersen.
 
Essential knowledge
The Sustainability Framework provided by Preferred by Nature has enabled Maersk to identify sustainability risks related to sourcing feedstocks:
"Cooperating with Preferred by Nature has been incredibly valuable. I am very impressed by the local knowledge, which is essential when working in this area. Preferred by Nature has delivered a very thorough piece of work," said Ingrid Marie Vincent Andersen.