Background
Sabah is one of the 13 states of Malaysia located in the northern part of the island of Borneo. Most of Sabah's biodiversity is found in forest reserves, which occupy about half of its total landmass of 7.34 million hectares. Over the last 30 years, Sabah has experienced rapid economic growth relying heavily on its forest resources to finance its socio-economic development programmes. There has been an acceleration of forest conversion, particularly outside the forest reserves, as well as forest degradation within the forest reserves associated with over-harvesting of resources. 
Protected areas are becoming increasingly isolated, thus decreasing prospects for viability of species. The 261,264 ha project landscape constitutes a connecting landscape that is utilised for timber production, industrial tree plantation, rehabilitated forests by enrichment planting and conservation purposes. This land-use mix is an emerging trend in the forest reserves of Sabah driven by:
the comparative disadvantage in crop gestation periods between growing trees and agriculture crops
low rent capture
incoherent enforcement associated with the lack of expertise in multiple-use forest landscapes. 
Building Capacity
The overall project 'Biodiversity Conservation in Multiple-use Forest Landscapes in Sabah, Malaysia' is large and complex and involves the concerted efforts of many stakeholder within and outside government circles. Under the overall project, Preferred by Nature (formerly known as NEPCon) was tasked to advice on capacity building for the key stakeholders involved in project implementation. 
Preferred by Nature's Approach 
Preferred by Nature's task was to; update baseline assessments of capacities and targets related to multiple use forest management within key target organisations of the overall project; support the development and co-ordination of capacity building initiatives of major relevant project sub-contracts; and prepare knowledge / capacity building assessments, based on sub-contract implementation and specifying follow up capacity building needs.
More specifically the following activities were planned:
To engage the Project Management Unit, subcontractors and key agencies to gain overview of the overall project
To develop a capacity assessment questionnaire by adapting the UNDP Capacity Assessment and Development Process and the previous questionnaire from the overall project planning phase
To engage the key agencies of the overall project to guide them on completing the capacity assessment questionnaire and updated the capacity assessment scorecard based on the responses
To review Rakyat Berjaya Sdn. Bhd. (RBJ) contractors' Sabah Timber Legality Assurance System (TLAS) audit reports and analyse the gaps identified
To review the overall project subcontracts' terms of reference and analyse their capacity building elements.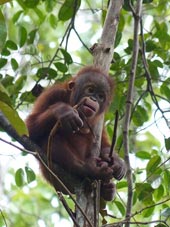 Expected Results
To summarise, the expected results of this project were as followed: 
A capacity assessment of the involved agencies in the overall project
A report that analysed the capacity building elements of the project subcontractors and key agencies involved, through a review of their terms of reference under this project and inputs from stakeholder discussions
A two-day training in the form of a collaborative training seminar on biodiversity and a project stakeholder working session on capacity needs
A report that followed up on the outputs of the training seminar and working session to conclude capacity building lessons of the project to date and provide recommendations for future efforts.
Feel free to contact us if you wish to engage or learn more about this project