Project objective
The objective of this project was to implement and institutionalise a management plan for Maliau Basin in the Sabah region.
The first part of this project was carried out by a joint venture between Preferred by Nature (formerly known as NEPCon) and the Danish company Ornis Consult Ltd. Ornis Consult was dissolved in 2002, and the project was completed by Preferred by Nature. 
Project approach
This project conducted a number of scientific investigations of the area, and set up new research facilities, including a research lab, climatic stations and permanent study plots in order to accommodate further research.
Results and impact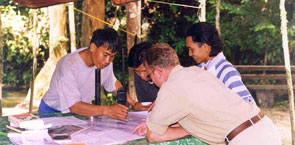 A key result of the project was a comprehensive management plan for the Maliau Basin. This was based on a wealth of new information on habitats and species generated through the project's scientific expeditions, another important outcome of the project.
The research team carefully plan their route in the trackless and rugged wilderness of the Maliau Basin.  

The project also served in raising public awareness on the need for conservation of the area, and enhanced the capacity of the Malaysian partner organisation Sabah Foundation as well as other stakeholder agencies.
As a direct consequence of the project, the Malaysian government nominated the area as World Heritage Site. Additional information about the area can be found here.