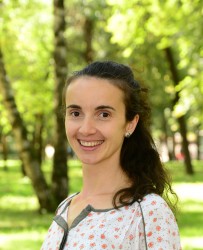 Neli Petkova
npetkova@preferredbynature.org
+359 89 446 5910
Neli is responsible for the FSC Chain of Custody audits in Bulgaria and neighbouring countries, as well as translating internal and external documents, maintaining the web page, organising seminars and handling other Preferred by Nature project work.
The responsible and sustainable forest management is a priority at my work. It is a way to ensure that forest resources are preserved to meet the needs of future generations and to combat dynamic global climate change.
Neli has worked in the environmental non-profit sector where she has participated in a number of environmental protection campaigns, projects and relevant publications. Neli brings with her solid experience in investment control, ecological and educational activities, green areas design and graphic projects.
Neli studied Forestry and Landscape Architecture in University of Forestry- Sofia, Bulgaria.
She officially join Preferred by Nature as a staff member in June 2016.
Skills at a glance
FSC Chain of Custody auditing
FSC Forest Management auditing
FSC trademark
Languages spoken: Bulgarian, English and German