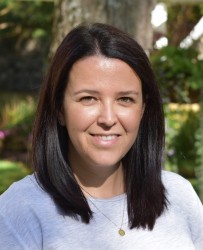 Noemie Simard-Rousseau
nsimardrousseau@preferredbynature.org
+1-418-805-4948
+1-418-805-4948
noemie.simard.rousseau
Noemie is responsible for managing a portfolio of Chain of Custody clients and ensuring accurate data entry and issuance of certificates. She also conducts FSC Chain of Custody audits.
Initially, I wanted to focus my career on animal conservation. However, following extensive travel and having met people from all walks of life around the world, these experiences have changed and shaped my vision differently. I began to believe that humanity is the key to a sustainable future. Having found a workplace and a job that is meaningful to me and being part of a global organisation that shares my vision is truly rewarding.  
Noemie provides support for the certification activities in the US and Canada regions. She manages and maintains technical and administrative databases, provides certification administration services support for clients in these regions and assists in the review and approval of trademark uses by certified clients in the region.
Her position is a hybrid role, engaged in both Supply Chain task management and auditing. She also coordinates and manages the implementation of Preferred by Nature Chain of Custody certification services for a subset of existing Preferred by Nature clients in the US and Canada. She is directly involved in all aspects of Chain of Custody certification audits including scheduling, project management, customer service, management of contract auditors and quality control. Noemie also participates in selected audits as a lead auditor.
Noemie began her career, overseas, as a Junior Programme Officer in Honduras, working within coffee-growing communities. During that time, she was in charge of developing, implementing and supporting producers with data collection, database management, traceability and better agroforestry practices focused on livelihoods improvement and market access. She then worked as a volunteer environmental specialist, in Haïti, for almost two years, as part of a cooperation project between the Canadian and Haitian governments.
Noemie joined Preferred by Nature in September 2019.
Skills at a glance
FSC Chain of Custody auditing

Master of Science in Environmental Sciences

Languages spoken: French, English, Spanish