The EU finally reached an agreement today on a new historic law to prevent companies from selling commodities linked with deforestation and forest degradation around the world on the EU market. The new EU Deforestation Regulation (EUDR) sets ambitious rules to halt global deforestation and forest degradation through innovative and comprehensive legislative measures. At the same time, it triggers some challenges for the actors involved in the supply chains affected by the new legislation.
>> Visit our dedicated EUDR webpage to learn more more about the regulation and access our resources. 
Every minute, we are losing forests at a rate equivalent to 27 soccer fields. Around 10 million hectares of forest are still lost annually on average, according to the Food and Agriculture Organization (FAO). The EU is known for accounting for 10% of this global deforestation via the consumption of certain products.
The last trialogue meeting in the evening of 5 December approved the final text of the EU Deforestation Regulation.
"The finalisation of discussions and agreement on the text of the new regulation is welcome news. This important regulation will help address the EU's contribution to global deforestation, but it also poses challenges for many countries where forest degradation takes place", said David Hadley, Preferred by Nature's Tailored Services Senior Manager.
Deforestation and forest degradation are important drivers of global warming and biodiversity loss. Through the negotiations, the European Parliament secured agreement on a wider definition of 'forest degradation' that includes the conversion of primary forests or naturally regenerating forests into plantation forests or into other wooded land and the conversion of primary forests into planted forests'.
With this new deal, the European Commission seeks to minimise the European Union's contribution to deforestation and promote sustainable consumption. This move will also strengthen the EU's position in the UN Biodiversity Conference happening this week when world leaders will hammer out another agreement to protect the nature.
 
Commodities and products affected
The new regulation will ensure EU consumers that the products they buy are not associated with deforestation and forest degradation, ultimately inducing their replacement by deforestation-free commodities and products.
The law applies to the following commodities: cattle, cocoa, coffee, palm oil, soya and wood. This also includes some derived products, such as leather, chocolate and furniture. Members of the European Parliament yesterday were also successful in including rubber as an additional commodity, as well as charcoal, printed paper products and a number of palm oil derivatives to the scope.
Under the regulation, any of these commodities associated with lands deforested after 31 December 2020 will be prohibited from import into and export from the European Union.
Specifically, all products/commodities within scope must be produced in compliance with relevant legislation and be produced on land that was not deforested after 31 December 2020. Additionally, wood products must be harvested in compliance with relevant legislation and without having contributed to forest degradation after 31 December 2020.​
"Adding natural rubber to the list of forest-risk commodities puts additional measures on the supply chain actors to ensure that their activities do not contribute to deforestation. However, given that most natural rubber is produced by smallholders, we hope that the regulation facilitates a just transition towards deforestation-free practices for the communities that rely on this crop for their livelihoods", said David.
The EU consumes over a million tonnes of natural rubber every year but does not produce any of it - depending almost entirely on imports from Southeast Asia and Africa, where various global biodiversity hotspots are located. An academic study has shown that over five million hectares of tropical forest were cleared across mainland Southeast Asia and sub-Saharan Africa for rubber plantations between 2003-2017.
Last month, Preferred by Nature joined nine other civil society members of the Global Platform for Sustainable Natural Rubber (GPSNR) in signing a letter that provides the latest data and analysis in support of the need to include rubber within the scope of this new regulation.
 
Mandatory due diligence
The regulation requires companies to prove their supply chains do not contribute to the destruction or degradation of forests. They may only place on the market and export products that are deforestation-free and have been produced in accordance with the relevant legislation of the country of production.
'Operators' - companies that first place goods covered by the legislative scope on the EU market, or export them - must conduct due diligence in order to be sure that the risk of their products being associated with deforestation or forest degradation is low. Additionally, 'traders' (companies merely trading goods which are already placed on the EU market) who are not Small to Medium-sized Enterprises (SMEs), will also be required to conduct due diligence.  
The regulation specifies requirements for each step of the due diligence process, i.e. an obligation to collect information on their supply chains, perform risk assessments and implement risk mitigation actions where necessary.
"Many companies are likely to need to adopt methods such as satellite monitoring, isotope testing, visiting production sites and training suppliers, and provide authorities with access to geographical and other relevant data attesting to the origin of the products," said Christian Sloth, Director of Sustainability Framework Programme at Preferred by Nature.
Under the EUDR, the due diligence process requires companies to obtain precise geolocation coordinates of where the product was produced. This stringent traceability requirement is intended to guarantee that only products free from deforestation access the EU market, and that enforcement agencies in Member States have the tools necessary to verify this is the case.  
"The geolocation and traceability requirements pose a very significant challenge for many operators. Meeting them could require sizeable investments in time and capital for some of these companies," said David.
"It will also be important to ensure that the use of digital traceability technologies does not disadvantage groups such as smallholders, who are responsible for much of the production of some commodities, such as cocoa," David added.
Operators will have to keep their due diligence systems (DDS) up to date to ensure that they can guarantee compliance with the requirements and ​review them at least once a year​. Moreover, operators who are not SMEs are required to publicly report as widely as possible, including on the internet, on their due diligence systems on an annual basis.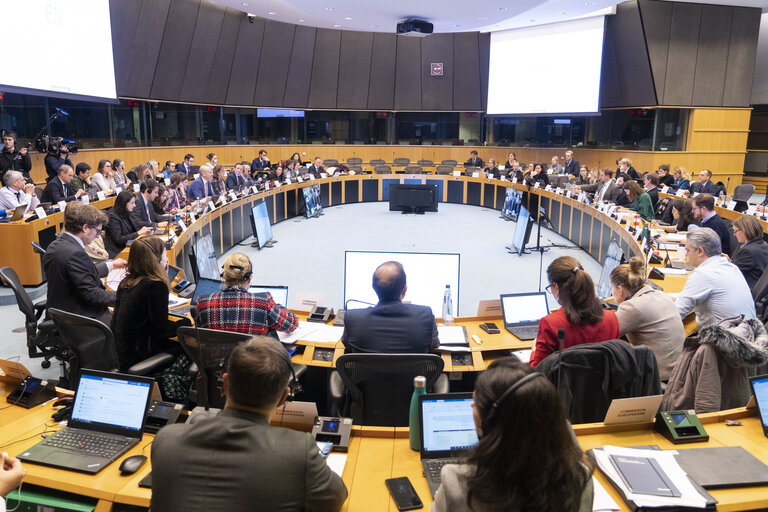 While the text of the agreed version of the regulation has still not been released, a statement by the European Parliament announced that the final text of the regulation requires companies to have verified compliance with the relevant legislation of the country of production including on human rights and that the rights of concerned indigenous people have been respected.
For violations of the new regulation, a series of possible options for sanctions exist, potentially including fines, product confiscation, confiscation of revenues, and/or disqualification from procurement processes.
The European Parliament and the Council will now formally have to adopt the new Regulation before it can enter into force. Once the regulation is in force, operators and traders will have 18 months to implement the new rules. Micro and small enterprises will enjoy a longer adaptation period, as well as other specific provisions.
 
Obligations will vary
A new development in the regulation describes that the European Commission will develop a central database of risk assessments or 'country benchmarks'. This benchmarking system will categorise nations as posing a low, standard or high risk of commodities or products being associated with deforestation, to aid with due diligence and control.
"Obligations for operators and national authorities will vary according to the level of risk assigned to the country of production. It means enhanced monitoring for high-risk countries and simplified due diligence for low-risk countries," says Christian.
Operators sourcing from countries that the Commission has designated as 'low-risk' will be allowed to conduct 'simplified due diligence. It means that they will be dispensed from carrying out the second and third steps of the due diligence process, i.e., risk assessment and risk mitigation. However, Operators will still be required to conduct the first step of due diligence - collecting information on their supply chains. This includes obtaining information on the locations of forest/farm plots.
Key provisions of the EUDR
Products covered: It covers timber, soy, cocoa, coffee, beef, palm oil, rubber and some products derived from these.
Prohibition: Products of the commodities included in the regulation may only be placed on, or exported from, the EU market if they are deforestation-free, have been produced in accordance with the relevant legislation of the country of production and are covered by a due diligence statement.
Due diligence requirements: A key requirement of the regulation is the obligation for operators to implement a due diligence system. Companies that place relevant commodities on or export them from the EU market, called 'Operators', are obliged to conduct a risk assessment and mitigate any risks where they are not negligible, before placing on the EU market or exporting.
Strong traceability obligations: The EUDR sets out an obligation on operators to obtain geolocation coordinates, latitude and longitude of all plots of land from where the commodities or products (including wood) were sourced, as well as the date or time range of production.
Transparency: In addition, operators are required to publicly report as widely as possible on an annual basis, including online, on their due diligence systems and the steps they have taken to ensure compliance with their obligations.
Coordination of enforcement activities: The regulation sets out the establishment of a central information system about operators and traders active in the EU, to receive and record Operators' due diligence statements, which will be accessible to national and customs authorities.
EUDR replaces EUTR
The EU Timber Regulation (EUTR), which currently controls the trade of illegally harvested timber products into the EU, will be replaced by the new regulation when its substantive provisions come into force.
"The EUTR has been the EU's main policy instrument to date, for addressing illegal harvesting and trade of wood products. However, the new regulation builds greatly on the EUTR by including a range of agricultural commodities into the scope. It also goes beyond just legality to cover both legal and illegal deforestation, which is crucial for achieving greenhouse gas emission reduction targets and reversing loss of biodiversity worldwide," explained David.  
Preferred by Nature welcomes this promising legislative initiative and the steps taken towards protecting biodiversity and halting forest degradation.
"The EUDR delivers an essential message to businesses engaged in the production, import or export of forest-risk commodities by introducing extensive regulatory measures. A few of these measures are ground-breaking and demonstrate the EU's ambition to set an example by going beyond illicit deforestation to address any deforestation caused by the growth of agriculture," stated David.
Christian shared, "Preferred by Nature is looking forward to the positive impacts of the new regulation and welcomes this promising legal framework, which is to guarantee not only the legality but also the sustainability of the harvesting, production, extraction and processing of the commodities in the country of origin."
"We want to be part of the efforts made towards tackling deforestation by providing effective, comprehensive solutions that operators could use to fulfil their legal obligations," he added.
Preferred by Nature will be organising a series of webinars to dive deeper into the EUDR requirements and how companies can comply with them. Interested in taking part? Leave your details here and we will send you an update once registrations are open. 
 
For further comments and insights, please contact: 
David Hadley
Tailored Services Senior Manager 
Preferred by Nature 
dhadley@preferredbynature.org
---
How we support companies to meet the EUDR requirements
Preferred by Nature's Sourcing Hub
To date, Preferred by Nature has evaluated the legality risks of sourcing timber, palm oil, soy, biomass and beef in over 70 countries. These risk assessments help companies to identify and mitigate risks when sourcing these commodities, and will also assist them to carry out the due diligence as required by the new deforestation regulation. Preferred by Nature plans to update the risk information to fully cover the requirements of the EUDR.
Our risk assessments, tools and other information are available for free on the
Sourcing Hub
.
Sustainability Framework
Preferred by Nature has revised the Sustainability Framework to address the requirements of the EUDR. The Framework is a universal set of principles and criteria that represent the core aspects of sustainability across all commodities and supply chains.
The Sustainability Framework serves as a valuable tool to support companies' efforts on their path from legal compliance to best practices. It allows verification of land use and manufacturing practices and can serve as a comprehensive tool for verification of the due diligence system relevant to companies' sourcing of products they wish to ensure are sustainable.
Tailored sustainability services
Preferred by Nature supports organisations to meet their sustainability and sourcing challenges in line with market and regulatory requirements, such as those of the new EU Deforestation Regulation.
Our
bespoke services
 help companies throughout their sustainable sourcing journeys, from setting commitments to reporting and disclosure, as well as the design and implementation of robust due diligence systems for deforestation-free and sustainable sourcing. Our activities span the whole commodity supply chain - from production to consumption - and include capacity building, benchmarking, system support and development, risk assessments and external verification and supply chain engagement
.