Project objectives
The project objectives are to improve the livelihoods of poor communities and reduce the negative environmental impacts of Quang Tri province in Vietnam through: 
increased economic opportunities for local farmers through sustainable forest management
improved forest management techniques that improve local environmental conditions through increased biodiversity, forest cover etc.
The Project in detail
The current forest management practice and wood supply chain in the province of Quang Tri offers opportunities for increased sustainable livelihoods as well as releasing bottlenecks that affects the incomes of farmers as well private sector industries and their employees involved in the wood processing industry. Despite tangible economic and environmental benefits of implementing sustainable forest management certification such as FSC, a lack of technical knowledge, business network and financing services are main barriers that are preventing the majority of farmers from switching to sustainable forest management practices. 
This project aims to develop the supply chain of certified wood and wood pellets from sustainable forests, and scale-up certified sustainable forest management areas thereby enhancing the sustainable livelihoods for forest growers as well as improving rural households access to affordable clean energy efficiency solutions for cooking. By doing so, it helps the local companies to get sufficient supply of certified wood for processing for higher added value lumbers and wooden products for export, as well as sufficient supply of by-products and residues – the inputs needed for wood pellet production.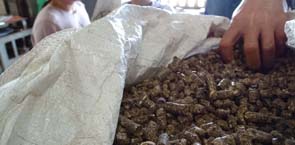 This project was collaborated with private companies such as Cam Lo Wood Pellet Company, who supports and encourages 6,000 farming households to apply sustainable forest certification practices, and train local farmers in sustainable forest management practices and forest replantation techniques, which created a sustainable base for a certified wood pellet production in the province. Furthermore, it enabled industrial users to apply cleaner energy solutions to reduce a significant amount of fossil fuel such as coal leading to CO2 emission. The development of certified wood and wood pellets will turn waste from wood processing to renewable and energy efficiency fuel for local households and industry users. 
Hence, the project was gone through multiple channels stimulate green growth within the region while, at the same time, supporting the sustainable livelihoods of rural farmers.  
Main results and outputs
The project has a number of expected outputs focusing on: 
- A sustainable supply chain of wood has been expanded e.g.:
Study on improved forest management
6,000 ha has been prepared for assessment by FSC certification body
500 leaders of farmer groups (20% female) are trained on sustainable forest management techniques and 6,000 households are guided on FSC forest management techniques 
- Capacity of local wood processing companies improved e.g.:
Wood processing practises are improved in the private sector (training of 5 companies). They will have knowledge about certified production, 4% reduction in by-product, 6,700 t of residues available for pellet production)
Farmers are supported in mechanised wood cutting (40% of area is harvested this way, 15% higher value from certified wood products, and 10% increase in income at household level)
- Awareness has been raised on sustainable forest management and project outcomes e.g.:
At least 30 participants representing local authorities have visited sustainable forest management initiatives in the province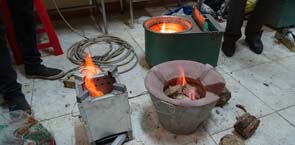 Innovation aspects of the project
The project offers an innovative market-based approach to develop the comprehensive supply chain for new energy efficiency products (wood pellets) targeting households and industrial users. Bringing existing players such as Cam Lo who produce and distribute different types of wood pellets into the province will create a competitive market of affordable and clean energy efficiency solutions.  Moreover, innovative social marketing activities, that shares information on improved pellets to reach the desired target of the users, were being used to create the demand for these new products.
The project was also facilitated innovative partnerships between stakeholders to ensure sustainable project results. Business knowledge, experience and resources from committed private firms who take a lead in the development of supply chains to ensure continuous innovation in the production, distribution of wooden products prepared for certification and wood pellets during and beyond the project period.
Lastly, innovative financing mechanisms, where the private sector provides financing for farmers who need bank loans for alternative livelihoods, is a powerful instrument to motivate large number of farmers in applying this sustainable practice.