We are adamant about the credibility and effectiveness of sustainability schemes. This is why we engage beyond the delivery of certification services to support strong impact on the ground.
Supporting credible schemes
Let's be honest about one thing: Creating and enforcing credible sustainability schemes is not easy. The good news is that it's possible. In fact, the world is witnessing such systems unfold.
At Preferred by Nature, we firmly believe that sustainability certification is a natural part of a better future, providing the systems are robust and credible.  
We engage actively in selected systems, and this takes many forms. For example, we participate in their development, we design and execute projects that strengthen the systems, and we share our insights in articles and reports. 
Forest Stewardship Council (FSC)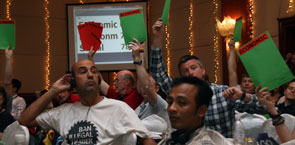 Since 1996, Preferred by Nature, has been an active participant in the FSC system at global and local level. We help to develop international and local FSC standards and processes that are powerful in fostering change.  
Preferred by Nature, is a long-standing member of FSC. We have attended all FSC General Assemblies to date, participating in key stakeholder discussions. 
As FSC service providers, we bring our experience from using the standards in practice to the table, along with a clear focus on the system's performance on the ground.
Some of our projects help streamline the FSC system. For example, together with FSC we have established the Global Forest Registry, a free online tool for buyers who seek to avoid unacceptable timber. The site supports certified companies sourcing Controlled Wood for their FSC products.  
We also regularly provide training for FSC National Offices, for example on Controlled Wood Risk Assessments.
Learn more about the FSC system
 
ISEAL
ISEAL is a leading international association for sustainability standards. 
ISEAL recognises the special challenges involved in securing the credibility of social and environmental assurance schemes. The organisation develops criteria for robust system management and oversight. Amongst other aspects, it advocates a strong focus on stakeholder inclusion.
Preferred by Nature is actively engaged with ISEAL, for example by serving on technical committees when appropriate. 
Many of the schemes for which we are an accredited certification body are ISEAL Compliant, meaning that they demonstrate a rigorous approach to improvement by implementing ISEAL's Standards-Setting, Impacts and Assurance Codes of Good Practice. These organisations include: 
Forest Stewardship CouncilTM
Rainforest Alliance
Bonsucro
Roundtable on Sustainable Palm Oil
UEBT
Other schemes we work with are ISEAL Community Members, meaning that they abide by the ISEAL Code of Conduct, and submit annual progress reports and improvement plans against the ISEAL Codes of Good Practice. These organisations include:
Climate Neutral Group
Global Sustainable Tourism Council
GlobalG.A.P.
Sustainable Biomass Program
Sustainable Rice Platform